Humbucker crome bridge 52 ivory mounting ring HB52IVO red wire
Main Page > Parts for musical instruments > Machineheads and other parts OL / SPG / Boston > Guitar pickups
Tuote 109868. Humbucker crome bridge 52 ivory mounting ring HB52IVO red wire. Keraamiset magneetit. Sarjaan käämityt mikit. Muovikehys + kehysruuvit 4kpl + jouset + 2 kpl jousien ruuveja. Kehys mataloituu n. 9.8 > 8.6 mm, kaareva pohja.
Includes mounting ring with screws + springs and 2 screws. 6 -adjustable polepieces. Polepiece spacing 52 mm. Punainen johdon päällys.
BARE WIRE = GND, connected to pickups metal bottom. WHITE = "HOT".
Edullinen Kiinalainen mikki.
See also
Tuote 105446. TALLA06CR, TC -tyylinen talla humbuckerille, kromi. Tele TC -tyylinen sähkökitaran talla humbucker malli, setti sisältää tallan + ruuvit. Kuudelle...
Tuote 109808. Ultra 24mm logaritminen kitarapotentiometri A250k/24/10/log. "Ultra made in Korea", potentiometrit kitaroille ja vahvistimille. A...
Tuote 109867. Humbucker crome neck 50 ivory mounting ring HN50IVO yellow wire. Keraamiset magneetit. Sarjaan käämityt mikit. Muovikehys + kehysruuvit 4kpl + jouset...
Inventaarilöytö, tämä on se malli mitä meillä oli ennen ...
Tuote 103946. Neutrik jakki, pitkällä kierteellä, ei hihnanuppia KJ63CR. Pitkällä kierteellä oleva 6.3 mm Neutrik jakki. Voidaan johdottaa joko stereoksi tai monoksi, asennusreikä 12...
Tuote 109442. Vaihtokytkin kahdelle mikrofonille TOGGSW2WHITE. Vaihtokytkin kahdelle mikrofonille, 3 -as. Peltikuori + maakorvake. Runko-osa, syvyys 18.0mm, leveys, 15mm, pituus...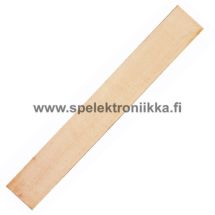 Tuote STL20396. Ylikoon Otelauta-aihio Sycamore sähkökitaralle. Koko n. 530 x 75 x 9 mm. Erittäin vaalea puulaatu aika paljon vaahteran oloinen. Ilmoitetut mitat ovat...
Tuote 103075. LP -tyylisen tallan kiinnikesetti KPS49CR, sisältää 2 ruuvia ja vastaketta, vastakkeissa uritus yläosassa. Pienempi halkaisijan mitta sileästä kohdasta, isompi...
Tuote 107803. Reunalista, reunanauha kitaraan, Cream Grained CG0515. Kaikki mitat noin mittoja. 1.5 x 5 x 1350 mm. Kellertävä reunanauha, missä hillitysti tummempia rantuja...