Humbucker crome bridge 52 ivory mounting ring HB52IVO red wire
Main Page > Parts for musical instruments > Machineheads and other parts OL / SPG / Boston > Guitar pickups
Tuote 109868. Humbucker crome bridge 52 ivory mounting ring HB52IVO red wire. Keraamiset magneetit. Sarjaan käämityt mikit. Muovikehys + kehysruuvit 4kpl + jouset + 2 kpl jousien ruuveja. Kehys mataloituu n. 9.8 > 8.6 mm, kaareva pohja.
Includes mounting ring with screws + springs and 2 screws. 6 -adjustable polepieces. Polepiece spacing 52 mm. Punainen johdon päällys.
BARE WIRE = GND, connected to pickups metal bottom. WHITE = "HOT".
Edullinen Kiinalainen mikki.
See also
Tuote 102969. Muovisatula musta 42 mm, 6 -kielinen kitara G6SATUB. Plastic pre slotted saddle to 6 -string guitar. Width 42 mm, thickness 3.5 mm, max. height 5.5mm (1.65x0.138x0.217").
Tuote 107456. Jakkilevy, ovaali syvennyksellä JAKLE1CR kromi. Jackplate for guitars. Oval recessed. Screw holes 2 x flat or oval head dia. 3.5 mm (0.138"). Jack hole...
Tuote SSQ20600. TC -tyylinen plektrasuoja humbucker White 3PLY W/B/W. Kuvat suuntaa-antavia, värisävyt eivät toistu useinkaan tietokoneen näytöllä sellaisina kuin...
Tuote 107477. Otelautanauha 2mm/26cm vintage erikoismessinki. Nimellisleveys 2mm. Suora. Näistä saat "kullankiiltoiset" nauhat hiomalla. Nauhat toimitetaan hyötypituudeltaan...
Tuote 103348. Pleksilevy (plektrasuoja) vintage white TC3VW/B/VW, TC -tyylisiin kitaroihin. TC -style plastic pickguard. 3Ply. Kuvat suuntaa-antavia, värisävyt eivät...
Tuote 103075. LP -tyylisen tallan kiinnikesetti KPS49CR, sisältää 2 ruuvia ja vastaketta, vastakkeissa uritus yläosassa. Pienempi halkaisijan mitta sileästä kohdasta, isompi...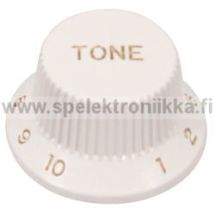 Tuote 101847. Potentiometrin nuppi. ST -tyylinen tonenuppi valkoinen STNUPTW. Korkeus n. 13 mm , leveys n. 17/25 mm. Boston Musical Products tai Korea, riippuen varastotilanteesta.
Tuote 103053. Kaulan kiinnityslevy kaulalevy KAULE1CR, kromi. Neck joint plates. Laadukas, hyväpinnoitteinen ja tukeva Boston Musical Products. Kaulalevy. Screw holes...
Tuote 109208. LP -tyylinen "stop" kielenpidin TALLA114CR kromi 6 -kieltä. Setti sisältää kielenpitimen + 2 kiinnikettä. Edullinen mutta hintaansa...