Tinapilli, Barnes & Mullins, messinginvärinen C
Main Page > Musical Instruments > Wind Instruments and Accessories
Tuote 102889. Tinapilli, Barnes & Mullins. Messinginvärinen C.
See also
Tuote 101768. Adapteri, 3/8"sisäkierre< > 5/8"ulkokierre, pinta-asennus pienellä laipalla. Boston mic stand thread adapter, 3/8 female to 5/8 male with grip ring.
Tuote 113756. Kitaran ja ukulelen seinäteline kitarateline seinään kitaran ja ukulelen seinäkiinnike K&M tyylinen, haarukat kumiseoksella päällystettyä terästä. Sekä kitaralle...
Tuote 103852. Plektra tortoise, paksuus 0.5 mm 1kpl. Selluloidia. Boston.
Tuote 102883. Tinapilli, Barnes & Mullins. Niklattu C.
Tuote 109250. JB -tyylinen kontrollipaneeli JBKONTBK musta. JB -tyylinen kontrollipaneeli. JB -style control plate. Screw holes 3 x flat or oval head, dia. 3.2mm (0.126"), pot...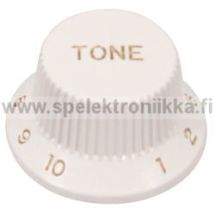 Tuote 101847. Potentiometrin nuppi. ST -tyylinen tonenuppi valkoinen STNUPTW. Korkeus n. 13 mm , leveys n. 17/25 mm. Boston Musical Products tai Korea, riippuen varastotilanteesta.
Tällä potikalla on se hieman pidempi kierrepituus 0.375".
Tuote 114253. Hi Hat tamburiini 16 (vai sanotaanko se 32) helistintä kahdessa kerroksessa Hayman. Metallirunko. Halkaisija n. 15 cm. Vai olisikko se 16 paria helistimiä.
Tuote 109548. Ruuvauskärkisarja "tavalliset kärjet" kärkisatsi 33 osaa.
- 6 kuusiopäätä (2; 2,5; 3; 4; 5; 6...