Lohivapa 13'7" perhovapa Ossilehti Fishing® Salmon LW 9/10#
Main Page > Ossilehti Fishing® fly fishing accessories > Perhovavat, vapaputket Ossilehti Fishing
Tuote 113057. Salmon Rod 13'7 " Ossilehti Fishing® Salmon LW 9/10 # . Optimum 40-44g Shooting Head. If you don't like shooting lines, then of course Spey and WF lines are exellent choice. Excellent feedback again from Norh Finland Fishing Fair, Ossilehti rods are quality products. Some customers have said that Guideline 13'7 9/10 is a very similar pole.

RESTRICTED FULL WARRANTY: Within 12 months, the original owner may, for example, send a broken tip piece at its own expense to the dealer with a copy of the receipt or other proof of purchase, and he will receive the corresponding copy free of charge in return mail. During the full warranty, no changes to the song will affect how you got it broken. We require you to submit a purchase receipt.
-----
The warranty does not cover "normal wear, excessively tightened joints or coil holders whose threads or sleeves have been broken due to excessive force."
"If the adults are really said, the rods will not break itself after some years of use, but the manufacturing defects occur in the first few times."
Keep your receipt secure.
See also
!!! Jälleen varastossa !!!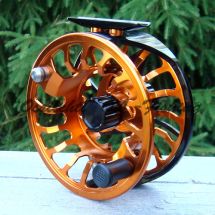 Tuote 103992. Perhokela Salmon WTB1012 TFH®, CNC jyrsitty perhokela vedeltä suojattu jarru, luokka 10-12. Yhdestä 6061-T6 luokan alumiinipalasta (lujin alumiini markkinoilla) CNC...