Fine mechanics vise with suction cup file bench with suction cup
Main Page > New items / in stock again
Tuote 102837. Fine mechanics vise with suction cup file bench with suction cup. Strong suction cup attachment, stays on a flat surface really firmly. Ball joint and rubber suction cup. Turns 360 ° and can be tilted up to 90 °. Jaw width 70 mm. The jaws open a maximum of 70 mm.
We also have soldering iron stand soldering iron stands tin vacuum cleaner tin pump auxiliary stand third hand file bench fine mechanics miniature vise grounding bracelet tin roller roller tin roller table stand.
Feinmechaniker Schraubstock mit Saugnapf Feilenbank mit Saugnapf. Starker Saugnapfaufsatz, bleibt wirklich fest auf einer ebenen Fläche. Kugelgelenk und Gummisaugnapf. Dreht sich um 360 ° und kann um bis zu 90 ° gekippt werden. Backenbreite 70 mm. Die Backen öffnen maximal 70 mm.
Wir haben auch Lötkolbenständer Lötkolbenständer Zinnstaubsauger Zinnpumpe Hilfsständer Dritte Hand Feilenbank Feinmechanik Miniatur Schraubstock Erdungsarmband Zinnrollenwalze Zinnrollentischständer.
Hyvinkin samanlainen kuin Pros kit PD-376 mutta erinvärinen.
See also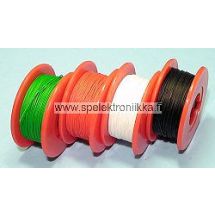 Tuote 103146. Räppilanka musta, kiertoliitoslanka, wire wrap lanka. Ohut n. 0.25mm (30AWG) yksisäikeinen kiertoliitoksiin (wire wrap) tarkoitettu lanka. Käytetään myös...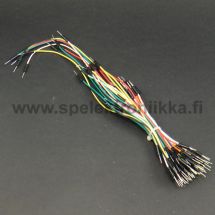 Product 114890. Assortment of jumping wires jumping wires for test circuit board Multicolored jumping wires of different colors for the test connection base approx. 65...
Tuote 110015. Banaaniliitin naaras 2mm runko musta.
Tuote 100369. Muuttaa sarjaliikenteen USB-väylän ymmärtämään muotoon ja toisinpäin. Toteutettu piirillä PL2303TA. PL2303TA USB to TTL RS232 COM UART Module Serial...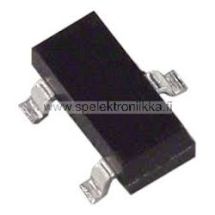 Tuote SBC21328. BC817-40 SMD NPN 45V 0,5A 0,25W 100MHz SOT23 Fairchild 10 pcs.
Tuote 103897. Elektroniikan laitekotelo ABS vaalean harmaa muovikotelo BOX 12A. Erittäin tukevaa tekoa, materiaalipaksuus min. 3mm, tästä kotelosta saa tehtyä myös...
Tuote 111102. Pienoislamppu kirkas 14V / n. 45 - 55 mA n. 3.8 - 4.2mm. Jalat n. 25mm, lasiosan pituus n. 10 - 12mm.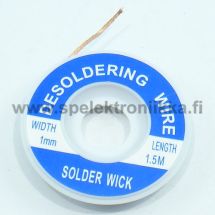 Tuote STN22206. Tinaimusukka SP1515 tinaimunauha 1.5mm pituus 1.5m. Tiheäpalmikkoinen hyvän imukyvyn omaava sukka.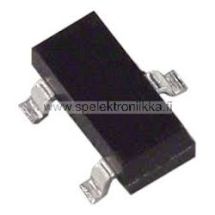 Tuote SBC21327. BC848B SMD transistori NPN 30V 0,1A 0,25W 100MHz SOT23 National Semiconductor 10 pcs.