PT100 temperature sensor in metallic tube with cable
Main Page > Arduinot moduulit jne ...
Tuote SPT24515. PT100 lämpötila-anturi metalliputkessa. Nollassa celsiusasteessa 100 ohm ja lämpötilakerroin 3850ppm/K. Arduino sovelluksiin ja muihin lämpötilanmittauksiin. Putken halkaisija 4mm ja pituus 30mm. Johdon pituus n. 95cm.
See also
Tuote 109218. Piikkirima 1 x 40, rasteri 2.54 mm suora.
Tuote 104716. Piikkirimavastake 1 x 20, rasteri 2 mm.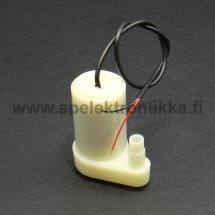 Tuote SVS24587. Vesipumppu 3V - 6V lähtö ylöspäin. Lelut, labraukset, kokeilut, jopa arduino sovelluksetkin. Imee pohjaosasta, ei suodatinta, lähtöliitäntä supistettu...
Tuote 109123. Mini electric motor, rated voltage 12V / 6600 rpm. Shaft diameter 2mm, length 10 mm. Motor diameter 25 mm, length 31 mm. Weight 21g. Short-circuit current...
Tuote 101829. Breadboard Koekytkentäalusta koekytkentälevy 270 kytkentäpistettä. Koko n. 50 x 90 mm. Paino n. 45g. Alapuolella tarra. Kulmissa kiinnitysreiät jos...
Tuote SNR21862.  UNO R3 kehitysalusta Arduino yhteensopiva kopio, USB johto mukana. Windows voi vaatia USB2.0-serial CH340/CH341 ajurin, löytyy helposti netistä. Lisäksi...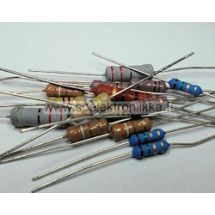 Tuote 106472. Tehovastus tehovastukset 1W 4.7 kohm 5%. Useita eri malleja.
Tuote 113837. Puolijohderele ohjaus 3 - 32VDC 24 - 280VAC max 40A. 1 x sulku. Taajuusalue 47 - 63 Hz. Jäähdytystä käytettävä !!! Nollapistekytkentä, eli kun AC...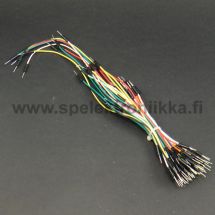 Product 114890. Assortment of jumping wires jumping wires for test circuit board Multicolored jumping wires of different colors for the test connection base approx. 65...