FDC6324L FET switch load switch 20V 1A SSOT-6 TSOP-6
Main Page > Electronic components etc ... > Aktiivikomponentit, IC -piirit, transist > FET normal and smd style
VDROP=0.2V @ VIN=12V, I L =1A, VON/OFF=1.5 to 8V VDROP=0.3V @ VIN=5V, I L =1A, VON/OFF=1.5 to 8V. High density cell design for extremely low on-resistance. VON/OFF Zener protection for ESD ruggedness. >6KV Human Body Model. SuperSOTTM-6 package design using copper lead frame for superior thermal and electrical capabilities. 
This device is particularly suited for  computer peripheral switching applications where 20V input and 1A output current capability are needed. This load switch integrates a small N-Channel Power MOSFET (Q1) which drives a large P-Channel Power MOSFET (Q2) in one tiny SuperSOTTM-6 package.
A load switch is usually configured for high side switching so that the load can be isolated from the active power source. A P-Channel Power MOSFET, because it does not require its  drive voltage above the input voltage, is usually more cost effective than using an N-Channel device in this particular application. A large P-Channel Power MOSFET minimizes voltage drop. By using   a  small  N-Channel  device   the  driving stage is  simplified.
Component Values
R1 Typical 10k - 1MW
R2 Typical 0 - 10kW (optional)
C1 Typical 1000pF (optional)
Design Notes
R1 is needed to turn off Q2.
R2 can be used to soft start the switch in the case the output capacitance Co is small.
R2 £ should be at least 10 times smaller than R1 to guarantee Q1 turns on.
By using R1 and R2 a certain amount of current is lost from the input. This bias current loss is given by
the equation
IBIAS _LOSS = Vin when the switch is ON. IBIAS_LOSS can be minimized by large R1.
R 1 +R2
R2 and CRSS of Q2 make ramp for slow turn on. If excessive overshoot current occurs due to fast turn on,
additional capacitance C1 can be added externally to slow down the turn on.
See also
Tuote 104398. Monorunko 6.3mm, Switchcraft, ei kytkintä. Switchcraft jakki 6.3 mm, mono tai stereo, kierreosan halkaisija 9.4 mm. Switchcraft jack 0.25" thread outer...
Tuote SPN23429. Painonappi PPN158 musta matalahko design, metallirunko iso nappi OFF - ON (momentary). 125 VAC / 3A resistiiviseen kuormaan. Asennusaukon koko n. 17...
Tuote SDS323983. DS18B20 Digitaalinen lämpötila-anturi paketoituna vedenpitävään putkiloon johto n. 1 m. Oivallinen vaikkapa arduino sovelluksiin. Pun. = +5VDC, Musta...
Tuote 111076. Painonappi painike PPN157 punainen matalahko design, metallirunko iso nappi OFF - ON (momentary). 125 VAC / 3A resistiiviseen kuormaan. Asennusaukon koko...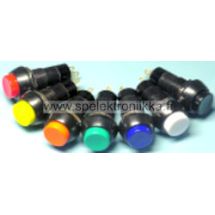 Tuote 111070. Painonappi painike PPN2 musta 1 x OFF-ON (mom). 250 VAC / 1A. Asennusaukon koko n. 12 mm, laippa n. 15 mm, nupin halkaisija n. 12 mm.
Tuote 103946. Neutrik jakki, pitkällä kierteellä, ei hihnanuppia KJ63CR. Pitkällä kierteellä oleva 6.3 mm Neutrik jakki. Voidaan johdottaa joko stereoksi tai monoksi, asennusreikä 12...
Tuote 107457. Jakkilevy, ovaali syvennyksellä JAKLE1BK musta. Jackplate for guitars. Oval recessed. Screw holes 2 x flat or oval head dia. 3.5 mm (0.138"). Jack hole...