Servo analog servomotor 360 degrees Analog SG90 or similar this is Tower Pro Clone
Main Page > Arduinot moduulit jne ...
Product STC242249. Servo servomotor 360 degrees Analog SG90 or similar this is Tower Pro Clone. NOT GENUINE, otherwise the same size and promises the same, but the promises should probably be reduced by some percentage. Very popular servo for many different small applications.
Servo 4.8V - 6.0V, weight 9 g. Output torque 1.2 kg / cm / 4.8V. Speed 0.12s / 60º. Rotation 360 degrees. Gears: Plastic. Size P 22xL 11.5 xK 27 mm. Pu = Vcc, Ru = GND, OR = Pulse in. Shaft end guide parts included. Servomotors, servomotor, servo. Arduino robot.
See also
Tuote 109052. Moninapaliitin pieni musta r. 2.54 mm, 5 -napainen. Piikkirimaan tai vastakappaleeseen, ei polarisoitu. Kuva suuntaa-antava yleiskuva. Sisälle tuleva kontaktiosa...
Tuote SDS323983. Digitaalinen 1 -wire 12 bit  lämpötila-anturi paketoituna vedenpitävään putkiloon johto n. 1 m. Pun. = +5VDC, Musta = GND, Kelt. = Data. Anturin kuori...
Tuote 109218. Piikkirima 1 x 40, rasteri 2.54 mm suora.
Tuote SRD21861. NANO V3.0 kehitysalusta Arduino yhteensopiva klooni. Käyttöjännite 5V. Sarjaliikennepiirinä CH340G ei FT232RL. Netistä löytyy ajureita tuolle...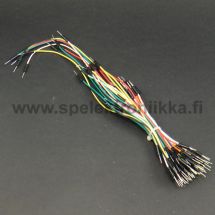 Product 114890. Assortment of jumping wires jumping wires for test circuit board Multicolored jumping wires of different colors for the test connection base approx. 65...
Tuote SSK242369. Askelmoottorin ohjainmoduuli A3967 arduino sovelluksiin ym ... Netissä paljon asiaa ohjelmoinnista ja muusta. Alla muutamia aiheeseen liittyviä linkkejä. Kannattaa...
Tuote SNR21862.  UNO R3 kehitysalusta Arduino yhteensopiva kopio, USB johto mukana. Windows voi vaatia USB2.0-serial CH340/CH341 ajurin, löytyy helposti netistä. Lisäksi...
Tuote 114880. Pienen mustan moninapaliittimen uros kontakti. Moninapaliitin kontakti. Tähän saa kohtuudella puristettua maksimissaan n. 0.3 neliön johdon.