Rotating Pedestal Vise Rotating fly bench table model D TFH®
Main Page > Ossilehti Fishing® fly fishing accessories > Perhopenkit, sidontapenkki TFH®
Tuote SRT24297. Rotating Pedestal Vise Rotating fly bench table model D TFH®. Really good value for money. Rotation The Vise fly tying bench is an excellent basic bench with a rotation and a stand. A bit as the name suggests, the fly hook can then rotate in one direction if any. "Parallel Clamp" jaws. Table model. Weight approx. 1500g. In the case of storage grease / oil, it is advisable to wipe off before use. TFH ™ Flat bench table base Parallel Clamp-type jaws, consisting of two separate halves. The thumbwheel at the tip of the jaws makes a "coarse adjustment" to the size of the hook used (the hook is attached lightly). The jaws are tightened with a rear thumbwheel that pushes the backs of the jaw pieces apart, closing the jaw tips. To open, first loosen the rear thumbwheel.
The images of the products are illustrative images, the color tones and gloss may differ from the real ones. Due to stock availability, the overall color of the benches (more black / more chrome) and, for example, the model of the table mount or some small details may differ from the model in the picture. However, this does not affect the basic characteristics of the product.
Strong jaws hold all basic size hooks in place and good adjustment allow for easy tying. There is room for adjustment in many directions (eg altitude and 360 degrees).
Hex key included.
General information about Indian benches:
Indian benches are very popular among binders. In Finland, they have been sold here also for a very long time.
Characteristic of Indian benches is a certain appearance of a handmade product, the finish is often not on top of the last one, and after the surface treatment the product has not been wiped off at least every place, but there are residues left in the product. The jaws work very well with the most commonly used size 8 # - 14 # hooks, the jaws often have a grip-increasing hook groove where the hook bend is placed, depending of course on the jaw model. Many, on Indian benches, tie even bigger hooks and smaller ones, it again depends on what kind of jaws it is.
The great popularity of the benches is based on the functionality in fly tying and the low price, as long as you remember the above things and keep some kind of sense in your demands. The more expensive "western" brand benches then already have a choice to refine.
The product may contain storage grease / oil, oxidation left over from the coating step / rusty sanding dust, etc ... it is advisable to wipe it off before use so as not to unnecessarily clog your hands. 
See also
Tuote 101582. Sidontalanka n. 150 denieriä Red. Rullassa lankaa yli 50 m (60 yds), tyypillisesti n. 60 m (55 yds). Paino n. 4.0...
Tuote 111334. Oliivi villalanka. Rullassa n. 3 m lankaa. Rullatussa langassa voi olla solmuliitoksia.
Tuote 101579. Sidontalanka n. 150 denieriä Olive Gray Green. Rullassa lankaa yli 50 m (60 yds), tyypillisesti n. 60 m...
Tuote 100573. TFH Crystal Sparkle Flash White Pearl tinseli. Ohut, kestävä (venyy ennen katkeamista), notkea tinseli. Kuitu on kierretty, jolloin väri vaihtuu tasaisen...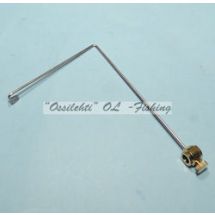 Tuote 101547. Sidontapenkkiin rullanpitimen lepuuttaja TFH®. Kiinnitetään sidontapenkin varteen. Tähän härveliin voit jättää spigotin roikkumaan langan varaan...
Tuote 108353. Langanpujotin messinki / teräs TFH™. Langan pujottaminen spigottiin onnistuu vaivatta tämän työkalun avulla. Kahvaosan pituus n. 50 mm, kokonaispituus n. 140...
Tuote 101144. Sidontapenkki perhonsidontapenkki puronvarsi "malli", matkamalli, sirot leuat TFH®. Monissa yhteyksissä tällaista sidontapenkkiä puhutellaan myös...
Tuote 101590. Sidontalanka Black 150, rullassa n. 90 - 100m. Sidontalanka n. 150 denieriä Black. Rullassa lankaa n. 90...
Tuote 101253. TFH™ Silk Floss 4 Strand Orange. Rullassa 4 x 400 denierin silkkiä n. 12 m (13 yds). Koska langat on kierretty kevyesti toisiinsa, saa ne helposti erotettua...