Servo motor servo Digital Tower Pro SG90 360 degrees rotating
Main Page > Arduinot ja moduulit
The product SNL23712. Servo motor servo Digital Tower Pro SG90 servo weight approx. 9g 360 degrees rotating. NOTE !!! Indeed SG-90 made by Tower Pro, not a clone !!!
Servo 4.8V - 6.0V, weight 10g. Output torque 1.3 kg / cm / 4.8V. Speed 0.12s / 180º. Rotation 360 degrees, rotating. Gears: Plastic. Size P 22xL 11.5 xK 27 mm. Pu = Vcc, Ru = GND, OR = Pulse in. Shaft end guide parts included. Servomotors, servomotor, servo. Arduino robot.
Lainaus Tower Pron sivuilta :
"There are many counterfeit servo of TowerPro from China dealers selling on eBay, Amazon and Alibaba websites.
If the suppliers removed "TowerPro" logo from the photos and the products description, they are selling counterfeits low quality servo".
See also
Tuote 103562. Robotic motor gear motor arduino, mini plastic gearmotor type SPB-02220176-D01R 1: 220 gearbox, "two axles", shaft...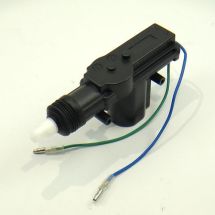 Keskuslukituksen ovimoottori slave.

Tuote 105459. Pintaliitos vastuslajitelma SMD VASTUSPUUHAPUSSI 1206 kotelo. !!! NYT SAATAVISSA !!!
SMD...
Tuote 113512. Pintaliitosadapteri SO8 SSOP8 ym ... Toisella puolella eri padit, monikäyttöinen adapteri jos täytyy saada pintaliitoskomponentti "jalalliseen" käyttöön. Läpikuparoidut...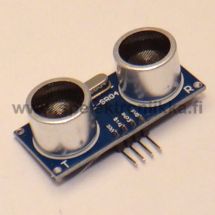 Tuote SLT22165. Ultraäänianturi HC-SR04 Arduino tai joku muu ohjaus.
Tuote 101359. 7842, 100k log. mono.
Liukupituus 30mm, ruuvien kiinnitysväli 50mm.
NOS = NEW OLD STOCK, laadukkaita liukupotikoita...
Tuote SVS21963. Vesivaaka vatupassi kupla n. halk. 15 x kork. 8 mm. Helppo kiinnittää tai upottaa erillaisiin materiaaleihin. Oivallinen myös asuntovaunu / asuntoautokäytössä.
Tuote SGG23433. GY-50 gyroskooppi L3G4200D chippi. Paljon tietoa netissä. Arduino. Lue takuuehdot.
Tuote SFR20395. Force Sensor Hokuriku HFD-500. Arduino. Speksit http://www.spelektroniikka.fi/kuvat/hfd500.pdf...