Central locking motor central locking door motor gun model servo
Main Page > Arduinot ja moduulit
Product 103582. Central locking motor central locking door motor gun model 12V two-wire slave. Motor (servo) for central locking systems, "gun" type universal model. Two-wire slave. Strong. Pull / push length max. 22 mm (rod movement). The control mechanics and transmission allow up to 50,000 operating cycles. Splash-proof. Operating temperature range -20º C… + 70º C. For 12 V systems, dimensions approx. 30 x 63 x 104 mm + maximum movement rod projection 45 mm. Traction current <6A.
By changing the polarity, the direction of movement of the rod can be changed. This servo has the motor gearbox "on" at all times, meaning the rod is never completely "neutral". The motor must not be switched on for more than 10 s continuously. (The motor "twists" all the time when the electricity is connected). Perforated fixing iron pit included with the package. 23 cm, handlebar 25 cm, fastening screws. Suitable for many other controls where you need to make the latch, valve, lock, etc. move with electric control. For other applications, the necessary counterforce can be applied to the spring, for example. Holding force up to 4 - 5 kg.
Below is a close-up of the control mechanics.
See also
Tuote SGG23433. GY-50 gyroskooppi L3G4200D chippi. Paljon tietoa netissä. Arduino. Lue takuuehdot.
Tuote 113512. Pintaliitosadapteri SO8 SSOP8 ym ... Toisella puolella eri padit, monikäyttöinen adapteri jos täytyy saada pintaliitoskomponentti "jalalliseen" käyttöön. Läpikuparoidut...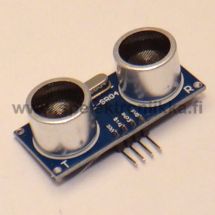 Tuote SLT22165. Ultraäänianturi HC-SR04 Arduino tai joku muu ohjaus.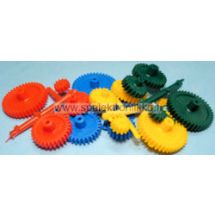 Tuote 104438. Muoviset hammasrattaat, 4 kpl muovisia hammasrattaita SET23. Värikkäät hammasrattaat, pienimmässä 2mm...
Tuote 101359. 7842, 100k log. mono.
Liukupituus 30mm, ruuvien kiinnitysväli 50mm.
NOS = NEW OLD STOCK, laadukkaita liukupotikoita...
Tuote 103561. Vaihteistomoottori suora SPB-01220176-01R 1:220 vaihteistolla, yksi akseli toisella puolella. Arduino sovelluksiin robotiikkamoottori...
Tuote SVS21963. Vesivaaka vatupassi kupla n. halk. 15 x kork. 8 mm. Helppo kiinnittää tai upottaa erillaisiin materiaaleihin. Oivallinen myös asuntovaunu / asuntoautokäytössä.

Tuote 105459. Pintaliitos vastuslajitelma SMD VASTUSPUUHAPUSSI 1206 kotelo. !!! NYT SAATAVISSA !!!
SMD...
Aito Tower Pro SG90 servo !