Viritysmittari BTU-150 klipsiviritin kromaattinen selkeä värinäyttö automaattinen, ei napin nappia ...
Main Page > Special offers etc ...
Tuote 110102. Viritysmittari kromaattinen automaattinen, ei napin nappia ... BTU-150. Pitkälti samanlainen käyttää kuin Cherub WST-630G, mutta tässä näyttö pystyasenossa.
BTU-150 tunerin lyhyt oppimäärä
Kromaattinen erittäin monipuolinen viritysmittari, kiinnitetään lapaan jne... kohtaan missä ääni johtuu parhaiten tuneriin. Sisäänrakennettu johtumisanturi, (johtumisanturi on tunteeton ympäröiville äänille). Taustavalaistu. LCD -näyttö. Englanninkielinen käyttöohje. Chromatic clip tuner, with multi colour display, auto power on/off. The BTU-150 turns on automatically when clipped on the headstock, and switches off when you remove it. When your instrument is in tune, the backlit turns GREEN. When it is sharp, the backlit turns RED. The BTU-150 tuner will switch off automatically when not used for 5 minutes. Built-in piezo sensor for accurate tuning. Tuning range:A0(27.5Hz)~C8(4186Hz) Tuning mode: Chromatic Tuning precision:±1cent A4 range:440Hz Detection method:Clip Tuning mode: Auto Power supply:3V(CR2032)Lithium battery (included) Dimensions:53(W)x35(D)x27(H)mm Weight:21g
See also
Tuote 114311. Akustisen kitaran teline lattiateline GS260A. Kokoontaitettava. Ei suositella nitroselluloosalakatuille kitaroille. Not suitable for delicate nitro cellulose...
Tuote SHH22762. Hihnanuppipari HN1595CR kromi 2kpl ja ruuvit mukana. Korkeus n. 9.5mm, ulkohalkaisija n. 15mm. OL -guitarparts. Muotoilultaan hieman litteämpi ja ohuempireunainen...
Myydyin mallimme ! Erittäin helppo käyttää !!! Siro pienikokoinen viritysmittari !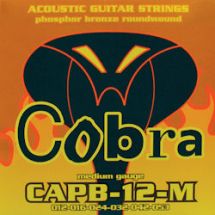 Tuote 101907. Akustisen kitaran teräskielet. String set acoustic, phosphor bronze wound medium, 012-016-024-032-042-053. Neljä punottua kieltä.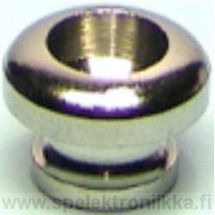 Tuote 102390. Hihnanuppi. Strap pin. Mitat lisätiedoissa.
Tuote 102845. Speaker box corner piece corner pieces for speakers plastic cabinet corner protector case corners. Size approx. 55 mm x 85 mm. For the construction of...
Tuote 103231. Nitroselluloosalakka kitaroille vaapuille spraypurkki 500 ml, kirkas gloss pintalakka. Kitaroiden lakkaukseen vintagetyylillä. Nitroselluloosalakka spray...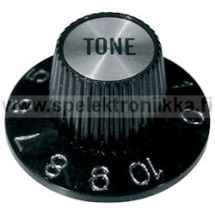 Tuote 101855. Potentiometrin nuppi. TC/SG tonenuppi black/crome TNUPTBC.
Tuote 103828. Kumipäällysteinen teräs kantokahva, malli C. Hihnamallinen kantokahva, metalliset mustat päätykiinnikeet, kumipäällysteinen teräs, notkea erittäin kestävä. Leveys...