Kromaattinen InTune klipsimallin viritysmittari
Main Page > Special offers etc ...
Tuote 107646. Kromaattinen InTune klipsimallin viritysmittari. Kytkeytyy automaattisesti päälle kun laitat sen lapaan ja kytkeytyy pois päältä kun se irrotetaan lavasta. Näytön väri on vihreä kun soitin on vireessä ja oranssinruskea kun ei ole vireessä. Sisäänrakennettu johtumisanturi. Taustavalaistu. LCD -näyttö. Kitaralle, viululle, kontrabassolle, ukulelelle, mandoliinille jne... Valinnat viulu (V), kromaattinen (C), kitara (G), basso (B). Englanninkielinen käyttöohje. Chromatic clip tuner (also G+B+U+V), with touch screen display, 430-450Hz.
See also
Tuote SNR21507. Pull chain sealing lamp switch, wall lamp pull chain switch, pull chain switch for fan, universal pull switch malli 4 ON / OFF kytkin narulla 250VAC 2A.  Soveltuu...
Tuote 111140. Tupakansytytin runko paneeliasennus ulkoapäin, tulpalla. Vain vähän ulkoneva. Edullinen silti tukeva malli, tulppa menee reikeliin helposti..
Tuote 103194. Otelautaudan sivumerkki 2 mm, white SIVUM20W. Otelaudan sivumerkit muovia. Fretboard side dot materials plastic. Length approx. 50 mm (1.969"). Dia. approx. 1.5...
Copper tape for RF shielding, extremely useful for guitars.
Tuote 114769. Akustisen kitaran kompensoitu muovisatula valkoinen ala SD9159COMP. Kaareva. Koko 72-9-10-8 mm, paksuus 2.5mm.
Tuote 113689. Koaksiaalikaapelin 2 teräinen kuorintatyökalu RG-58, RG-59, RG-6. 2 -teräinen malli. Terien säätö kuusioruuveilla. Kuusioavain mukana.
Tuote 102074. Magnetic cup magnetic screw bowl magnetic bowl, an excellent aid for storing small parts eg during maintenance of an ATV, motorcycle, moped, bicycle, car, musical...
Tuote 105810. Tuuletin 12VDC Sunon VAPO 40 x 40 x 10 mm.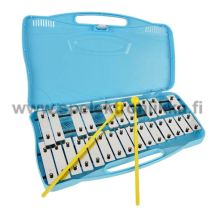 Tuote 109105. Kellopeli kromaattinen Angel  Glockenspiel 25 ääntä G2 - G4. Muovikotelo kantokahvalla. Nuijat (malletit) mukana (2kpl). Kirkkaat äänipalat. Samantapainen...