Ziricote Craft Pack 500g Marquetry Intarsia
Main Page > Parts for musical instruments > Machineheads and other parts OL / SPG / Boston > Raw wood for guitar building
The product SZR23227. Intarsia Pattern Veneer Wood Jewelery Ziricote Craft Pack 500g. For jewelry, decoration, marquetry inlays, wooden jewelry, knife handle decoration, etc. A real bag of happiness for a marquetry enthusiast, for example. All the bags are different, the trees are remnants of cut products. Products are not symmetrical, edges are not smooth, etc ... etc ...
Natural product colors, causes, etc. vary from piece to piece. The length of the pieces varies but is most often about 18 - 25 cm. The bag has about 3 to 6 pieces, depending on the size of the pieces and the density of the wood. The thickness of the pieces varies from about 6 mm to 25 mm and is not necessarily symmetrical in any direction. Absolutely insanely good and usable material for embedding and decoration.
Nämä puuthan ei näytä tuollaisena raakileena ollenkaan sellaisilta kuin mitä ne on niin sitten kun ne on viimeistelty höylätty, hiottu ja lakattu. Netissä runsaasti viimeisteltyjen Ziricote puusta tehtyjen tuotteiden kuvia.
See also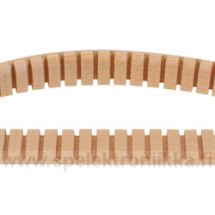 Tuote 102278. Kerfed lining, akustisen kitaran lovettu tukirima toisen puolen päät pyöristetty.
720 x 5 x 19mm.
Tuote 104116. Ovaalikanta kromi puuruuvi 2515CRW. 2.5 x 15 mm, wood, CR, oval. Soitinrakentelussa käytettäviä ruuveja. Mounting...
Tuote 109800. Ovaalikanta musta puuruuvi 2512GDW. 2.5 x 12 mm, wood, GD, oval. esim. Humbucker kehyksiin. Soitinrakentelussa käytettäviä ruuveja. Mounting...
Tuote 103429. Lapaviilu kitaraan, cocobolo. Guitar headplate, cocobolo. Hyötypinta-ala n. 3.5 x 90 x 210 mm. Voimakkaat kauniit kuviot, kova puu.
Tuote 108214. Reunalista, reunanauha kitaraan ABS, Brown FBROWN1560. Koriste "reuna" nauha, reunalista, binding material. ABS. Mitat noin mittoja. Brown, 1.5 mm x...
Kaularuuvi, suosittu koko. Laatu samaa kuin vaikkapa Gotohin ruuveissa.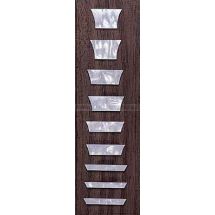 Tuote 102447. Otelautamerkit Kruunu, simpukkajäljitelmä.Crown style, artificial pearl, plastic, 9 pcs/set.
Tuote 109174. Cocobolo talla-aihio pala n. 200x33x13 mm. Hyötyala hieman pienempi.
Tuote 115063. Rosteri (stainless steel) otelautanauha Sintoms Ltd vintage 1.2 mm/26cm. Otelautanauha, ruostumaton teräs (stainless...