Clock Repair Kit Tool Set for Watches model A
Tuote SKL23044. Clock Repair Kit Tool Set for Watches Wrist Watch Back Cover Opener Clock Repair Wood Set. A wide variety of tools, even those whose name is unknown or not even pronounced. A wish set for those who tinker with watches. Clock back cover opener. The back cover opener includes 6 different 3-piece heads. Also from us: Magnifying glasses magnifying card magnifying glasses with collar etc.
See also
Tuote 103629. Fluksikynä, juoksute sisältö n.12 ml fluksia, alumiinisäiliö, uudelleentäytettävä. Kärjen leveys n. 4.5 mm. Fluksi imeytyy...
Tuote 114184. Tinarullateline tinarullan pöytäteline. Helppokäyttöinen, eipä enään tinarulla pyöri pitkin pöytää. Sopii max 1kg rullille, puolan halkaisija n. 16mm, tinarullan...
Tuote 101521. Polymorph is an excellent reshapable plastic for many small repairs and, for example, for making pike fly heads, lures, fatigue of various models, etc...
Tuote 101223. Tinapasta lyijytön 8g. Tähän sopii kaikki Luer-Lock annostelukärkemme.
Product 111022. Coolmorph ™ Coolmorph granules. Reshapable plastic. The substance is like a polymorph but melts already at a temperature of about 42º, ie with warm...
Tuote SPL21591. PLCC pihdit helpottaa PLCC piirien irroitusta kannasta. For PLCC-components (20-124 pins). Self opening for repetative action.
Monikäyttöinen vempele !!! Moottorin saa purettua irti jos keksii muutakin käyttöä. Liekkö vaikka passaa johonkin pieneen droneen moottoriksi.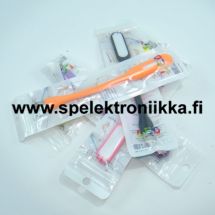 Tuote SSB22771. USB LED valo LED valaisin LED yövalo taivuteltava kevyt hyvä apuvalo läppärille, kevyt, valkoinen valo kuorien värit sekalaisesti mitä sattuu. Oivallinen...
The product STR23490. Steel juicers whistles stainless steel drinking whistle steel ecological alternative 8pcs + whistle brush + "jute bag". 4 straight whistles 4...