Klipsiviritin kromaattinen viritysmittari kitara, basso, viulu, ukulele
Product SKL22259. Klips Tuner chromatic tuner for guitar, bass, violin, ukulele. A compact gauge, a reduced display, a highly usable and inexpensive tuner, is attached to the player's blade, etc ... where the sound is best attributed to the tuner. Built-in conductor sensor. Automatic power off. Only 1 button. The display is illuminated from the top of the top LED that is at the center of the excitation center. +/- scale. Works with 1 x CR2032 battery (included). Read the instruction manual. Size only 29 x 39 mm + clip stem and clip.
Laitetaan päälle painamalla oranssia nappia muutaman sekunnin. Alkuasetuksena on kromaattinen (C). Painelemalla oranssia nappia saat vaihdeltua asetukset C, G, B, V, U. Painamalla oranssia nappia pitempään, laite sammuu. Näyttö on sininen kun viritys ei ole kohdallaan ja muuttuu vihreäksi kun viritys on kohdallaan.
Oivallinen mittari vaikkapa "kakkosmittariksi" kun se varsinainen mittari on kuitenkin jossain muualla kuin kitaran lähellä.
See also
Tuote 109441. Vaihtokytkin kahdelle mikrofonille TOGGSW2CREAM. Vaihtokytkin kahdelle mikrofonille, 3 -as. Peltikuori + maakorvake. Runko-osa, syvyys 18.0mm, leveys, 15mm, pituus...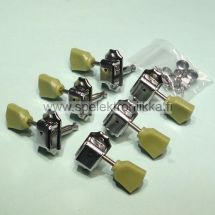 Tuote 115414. Keystone nupeilla kluson tyylinen virityskoneisto 3L + 3R SPG138CR vihertävillä muovinupeilla. 6 -kieliselle kitaralle 3L + 3R. Kielen reikä tapin läpi, ei...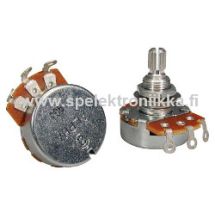 Tuumakoon kierreosa, eli menee USA kitaroihin. Standard length bushing .375", 3/8" diameter.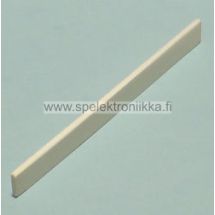 Tuote 109715. Luuaihio F-3402 kitaran alasatula Hosco. Koko n. 83x12x2.4mm for Acoustic Guitar.
Tuote 103214. Kitaran pleksilevy aihio (cream) 1ply, 300 x 450 CM1PLYBIG. 300 x 450 mm. Kaikki mitat noin mittoja. Cream on...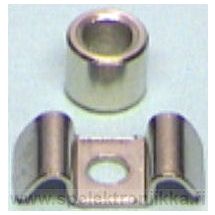 Tuote 109266. Kieltenohjain KO59GD kulta. Kieltenohjain, string retainer. Mitat lisätiedoissa.
Tuote 102419. Dobro tailpiece resonaattorikitaran kielenpidin DP-3C kromi. Kiinnitysruuveja ei mukana.
Tuote 101764. Viritysveivi kieliveivi virityskampi Boston musta muovia sopii myös porakoneeseen ja ruuvinvääntimeen. Ruuvinväännintä käytettäessä vedä veivin...
Tuote 101848. Potentiometrin nuppi. ST -tyylinen volumenuppi ivory (cream) STNUPVI musta teksti. Korkeus n. 13 mm , leveys n. 17/25 mm. Boston Musical Products tai Korea, riippuen...