Mistmaker, "usvatin"
Main Page > New items / in stock again
Product 100194. Mistmaker, "usvat" slowly replacing multicolored LEDs with AC adapter. Embedded in water, the device "makes a cold mist". The liquid should be around the sensor at a width of at least 10 cm around the edge of the sensor to ensure sufficient cooling. In depth, water can be in the container as much as you want, but about 10cm from the top of the sensor is often a good height. If there is too little water above, the vibrator will splash along the table, the vibrator will turn off when the surface of the water falls below the probe head above it. Humidifies your environment, operating frequency of about 40 kHz. Automatic stop when there is not enough water above the sensor. NOTE! The vibrator is destroyed if it is used incorrectly in the air, for example by shortening the end of the oscillator sensor part to the frame, the warranty will not be replaced if the sensor is detected when opened. Usage eg. witch-akan padan in the soups, with plants, in terrariums etc ...
Kuvassa kulhossa oleva usvatin toiminnassa.
See also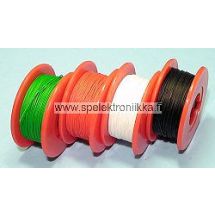 Tuote 103145. Räppilanka punainen, kiertoliitoslanka, wire wrap lanka. Ohut n. 0.25mm (30AWG) yksisäikeinen kiertoliitoksiin (wire wrap) tarkoitettu lanka. Käytetään myös...
Tuote SDG24538. Digitaalinen voimakas servo MG996R 180 astetta. Metallihampaat / muovihampaat. Viimeinen hammas metallia. Servo 4.8V - 6.0V, paino n. 50 g. Output torque...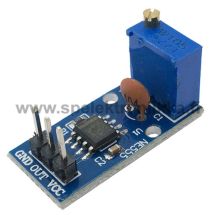 Tuote SNP240669. NE555 piirillä toteutettu pulssigeneraattori. Käyttöjännite 5 ... 12 VDC. Ulos tulee kanttiaaltoa. Taajuuteen vaikuttaa R1, trimmeri ja C1.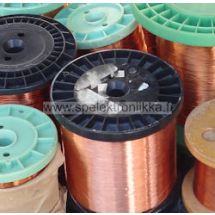 Tuote 110145. Käämilanka emaloitu kuparilanka lakattu kuparilanka nimellispaksuus 0.71 mm 1m. Ulkohalkaisija hieman isompi. Myydään rullalta metreinä, toimitetaan kiepillä.
Kitaraosien...
Tuote 109050. Moninapaliitin pieni musta r. 2.54 mm, 3 -napainen. Piikkirimaan tai vastakappaleeseen, ei polarisoitu. Kuva suuntaa-antava yleiskuva. Sisälle tuleva kontaktiosa...
Tuote SRC323995. RCWL-0516 microwave radar motion sensor. Module uses a "microwave Doppler radar" technique to detect moving objects. Its advantage over traditional PIRs...
Tuote 114106. Superkirkas LED 5mm Warm White typ. 35000 mcd max. 20mA . Kynnysjännite typically 2.9 - 3.6 V. Säteilykulma 15 astetta !!!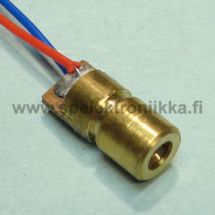 Tuote SLS21095. Lasermoduuli aihio LM2 HUOM ! Ei valmis laite vaan laserkomponentti. Vaatii toimiakseen oikein mm. koteloinnin, virransyötön, jännitereguloinnin ja...
Tuote 113932. Painokytkin 1 x ON - OFF lukkiutuva PK3 Keltainen. Asennusaukko 12 mm, 250V / 3A, pyöreä muovi nuppi halk. 12 mm.