Vintage eyelet brass 2.0 x 2.9 mm approx. 50pcs
Main Page > Parts for musical instruments > Machineheads and other parts OL / SPG / Boston > Pickup building parts
Tuote SLP21498. Läpivienti vintage eyelet brass 2.0 x 2.9 mm n. 50kpl puntarilaskettu, voi olla +/- 1-2 kpl. Kokonaispituus n. 2.9 mm, laipan halkaisija n. 3.8 mm, putken ulkohalkaisija n. 2.0 mm, sisähalkaisija n. 1.2 mm, materiaalipaksuus n. 0.4 mm. Käytetään läpivienteinä esim. prespaanilevyissä mikrofonilangalle, piirilevyissä jne ... Mitat ovat noin mittoja.
Oikeasti ko. eyelet lukitaan erikoistyökalulla siten että tuo laipaton pää "puristetaan" tai "lyödään" siten että sinnekkin puolelle leviää tuollainen laippa.
Kotikonstein saa sen lukittua kyllä tinallakin tekemällä isompi tinakökkö tuon laipattoman pään ulkoreunoille.
See also
Tuote 108037. Keraaminen kondensaattori 47pF 63V N150.
Tuote 109389. MPSA14 NPN 30V 0.5A darlington TO-92.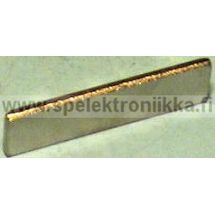 Tuote 113980. Hotrail STEELBAR for GBOB4. Steelbar for GBOB5, 5 x 13 x 74.8mm.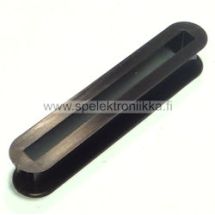 Tuote 102033. Kelarunko GBOB3 mikrofonin kelarunko. Model 3. Outer dim. h 13 x w 13.8 x L 76.5mm inner dim. h 10.8 x w 6.3 x L 69 mm. Space for magnet 5 x 66.8 mm.
GBOB3.
Tuote 107603. Laitekotelo " Snap in" muovikotelo 29x72x124mm kotelo 30. Mitat ulkomittoja. Kotelo muodostuu kahdesta kappaleesta jotka painetaan toisiaan vasten, kiinnittyvät...
Tuote 104074. Ovaalikanta musta millikierre 3518BKM. 3.5 x 18 mm, metric, BK, oval. Soitinrakentelussa käytettäviä ruuveja. Mounting...
Tuote 110523. Sintoms Ltd JUMBO Rosteri Otelautanauha, ruostumaton teräs (stainless steel frets). Todella laadukasta ja...
Tuote 102030. Yksikelaisen mikrofonin valmis runkoaihio. Single coil pickup bobbin. Polepiece spacing 50 mm (1.96") or 52.5 mm (2.07"). Height 15 mm (0.59"). Aihion yläosan...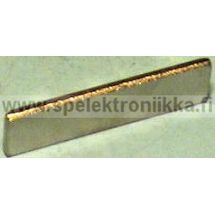 Tuote 102036. Hotrail STEELBAR for GBOB5. Steelbar for GBOB5, 3 x 14 x 53.5mm. When used this, you need two CERA5575 and cut those to length you need, or leave those oversize. GBOB5...