Valotikut valotikku hohtotikku Glowstick Glow Sticks 100kpl 8" värilajitelma
Main Page > Electronic components etc ... > LED strip LED connectors
Product SVL20891. Well now these sticks then seem to be coming back to our range. You can also make these glow-in-the-dark bracelets with the included connectors.
Pack of 100 8 "(slightly over 20cm) sticks and 100 sleeves to catch the ends of the stick. Not toxic but very bad-tasting. The stick makes you glow when you fold and squeeze the stick a little and finally even shake.
See also
Suomen edullisimmat squirmyt ???
Product 111022. Coolmorph ™ Coolmorph granules. Reshapable plastic. The substance is like a polymorph but melts already at a temperature of about 42º, ie with warm...
Tuote 109565. Eristetty pääteholkki 0.75mm2 johtoon. Pään pituus 12mm harmaa.
Tuote 109680. Kärkirengas alumiinioksidi koko "6" putken sisähalkaisija n. 2.0mm musta vahvistettu malli Ossilehti Fishing®. Renkaan sisähalkaisija n. 3.9 mm, putken...
Tuote 107149. Suurjännite kondensaattori 8.2 nF 2000V r.22.5mm.
Tuote SPV23538. Päävirtakytkin päävirtakatkaisin 150A max 24V (12/24VDC). Laipan halkaisija n. 68mm, kahvan korkeus laipan yläpinnasta n. 52 mm, asennussyvyys n. 40...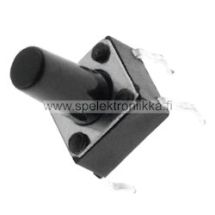 Tuote 115136. Painonappi piirilevylle pienoispainonappi 6 x 6 x 9 mm. Korkeus kytkimen pohjasta nupin päähän n. 9 mm.
Tuote 103440. Monisäikeinen silikonipäällysteinen punainen asennusjohto 1.50 mm², vaativiin olosuhteisiin. Lämpötila-alue - 60 ... + 180 astetta, lyhyaikaisesti jopa...
Longest afterglow as also White has !!! Afterglow colour very bright green.