Central locking motor central locking door motor gun model servo
Main Page > Special offers etc ...
Product 103582. Central locking motor central locking door motor gun model 12V two-wire slave. Motor (servo) for central locking systems, "gun" type universal model. Two-wire slave. Strong. Pull / push length max. 22 mm (rod movement). The control mechanics and transmission allow up to 50,000 operating cycles. Splash-proof. Operating temperature range -20º C… + 70º C. For 12 V systems, dimensions approx. 30 x 63 x 104 mm + maximum movement rod projection 45 mm. Traction current <6A.
By changing the polarity, the direction of movement of the rod can be changed. This servo has the motor gearbox "on" at all times, meaning the rod is never completely "neutral". The motor must not be switched on for more than 10 s continuously. (The motor "twists" all the time when the electricity is connected). Perforated fixing iron pit included with the package. 23 cm, handlebar 25 cm, fastening screws. Suitable for many other controls where you need to make the latch, valve, lock, etc. move with electric control. For other applications, the necessary counterforce can be applied to the spring, for example. Holding force up to 4 - 5 kg.
Below is a close-up of the control mechanics.
NOTE! If by chance this is not in stock, you can use a MASTER motor instead of this, same price !
See also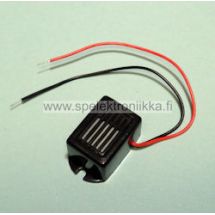 Tuote 109917. Pienoissummeri johdoilla 12VDC PS23. Koko 17 x 23 mm. Korkeus 15 mm. Kiinnitysreikien väli 26 mm. Taajuus n. 500 Hz. Paha kuuluva ääni. Nimellisjännite 12VDC, toimii...
Tuote 107519. Digitaalinen ajastin "munakello" leivonta-ajastin. Laskee joko ylöspäin nollasta tai alaspäin asetetusta ajasta. Maksimi 99 min
99 sec. Paristot...
Tuote SVK21504. Ovikytkin autoon veneeseen jne ... muovikuoret. Monenlaisiin sovelluksiin missä tarvitaan tieto esim. kannen aukeamisesta ym. ym.
Tuote 114109. UV LED 5mm 373nm +/- 5nm. Forward voltage 3.3 - 4.8V. I max 20mA. 50% power angle 20 degrees. Huom !!! Koska tämän LED:in aallonpituus on noin matala, näyttää sininen...
Tuote 101543. LED ohjain LED valojen himmennin LED nauhoille 12V 6A (8A). Käyttöjännite 12VDC soveltuu mm. LED nauhoille, yksittäisille tehokkaamille...
Tuote 113837. Puolijohderele ohjaus 3 - 32VDC 24 - 280VAC max 40A. 1 x sulku. Taajuusalue 47 - 63 Hz. Jäähdytystä käytettävä !!! Nollapistekytkentä, eli kun AC...
Tuote 104471. Teräsakseli terästanko halkaisija 3mm, pituus n. 120mm +/- 3mm.
Tuote SKN22198. Keinukytkin nro:242 punainen valo 230VAC 1 x sulku hatussa 1 ja 0 merkit. Pyöreä asennusaukko halk. 20 mm. 250VAC / 4A.
Tuote SPK23645. Peak thermometer -50 ... + 300 degrees. Powered by 1 x LR44 battery (included). Weight approx. 21g, total length 240 mm, spike part 145 mm. Thermometer for...