Music Man tyylisten mikrofonien polepiece slugs 9.5mm x 17mm
Startsidan > Gitarrdelar gitarrtillbehör Instrumentbygge tillbehör > Gitarrdelar gitarrtillbehör Boston / SPG > Pickup delar
Tuote SMS20867. Music Man tyylisten mikrofonien polepiece slugs 9.5mm x 17mm. Kromatut teräspalat mm. Musicman tyylisiin mikrofoneihin missä käytetään suorakaidemagneettia mikrofonin alla. Cromeplated steel polepiece slugs for pickups with square magnet below bobbin. For example Musicman style pickups. Ø 9.5 mm (0.374"). Myydään kappaleittain. Steel polepieces for guitar pickups are sold individually.
Katso myös
Tuote 102040. ALNICO 5, magneetti Ø 5mm (0.195") tasaiset päät, soveltuvat ylä, ala ja keskimikin magneeteiksi (FRM). Vintage non staggered alnico 5 polepieces, Ø 0.195". Guitar...
Tuote 102045. Keraaminen suorakaidemagneetti Ceramic 8 Bar Magnet 5mm x 5mm x 75mm. Keraaminen suorakaidemagneetti. Monikäyttöinen magneetti, kitaramikkien päivityksiin, mikrofonien...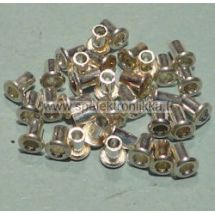 Tuote 113839. Läpivienti new age eyelet plated copper pituus 3.4 mm n. 100 kpl. Kokonaispituus n. 3.4 mm, laipan halkaisija n. 3 mm, putken ulkohalkaisija n. 1.9...
Tuote 115113. Siirtokuvakalvo etulevykalvo Decal Ultra Light Pro Laser A4 Clear 5kpl. Paksu kunnollinen taustapaperi. Näitä kalvoja käyttävät mm. Ammatikseen erillaisia...
Tuote 115117. Siirtokuvakalvo etulevykalvo Decal Standard Pro Laser A4 Snow White 5kpl. Paksu kunnollinen taustapaperi. Eniten käytetty ylivoimaisesti...
Tuote 102577. PB -tyylisen basson mikrofoni kuoripari, ilman magneettien reikiä. PB -style plastic covers (pair), without magnetholes. 19.5 x 27 x 55 mm + 2 screw holes. Plastic, approx. 1.2mm...
Produkt 104677. Gitarrmikrofonlindningstråd, pickupwire AWG42 (0.06mm), typiskt ca 170-180g / spole. Gitarmikrofoner Lindningstråd, pickupwire, ca...
Tuote SMS21233. Musicman pickup cover with holes 4 strings black.
Tuote 102580. JB -tyylinen alamikin kuori, ei magneettireikiä. JB -style plastic cover for rear mic. 23 x 18 x 93mm + 4 screw holes. Plastic, approx. 1 mm thick.