Wilkinson® WVC-CR vintage narrowed 10.8 spacing
Startsidan > Gitarrdelar gitarrtillbehör Instrumentbygge tillbehör > Gitarrdelar gitarrtillbehör Wilkinson > Stall tremolo Gitarrdelar gitarrtillbehör Wilkinson
Tuote SLK20818.  Wilkinson® WVC-CR vintage narrowed 10.8 spacing. Since its introduction in 1954, this classic design is the most copied guitar vibrato bridge ever.
The design is so simple and eminently usable it is a challenge to improve on it, but Wilkinson did with WVC Trem!
Wilkinson take on the vintage style Stratocaster trem, mounting with the classic 56.4mm (2 7/32″) screw spacing, but with narrower string spacing at 54mm (2 1/8"). The narrower spacing gives a much more stable string lie across the neck, limiting the possibilities of the E strings slipping off the frets, a great little touch for anyone who likes their hammer ons and pull offs. Completing the assembly are the bent steel saddles built from the same gauge steel as the originals to retain the "vintage sparkle" that this bridge has become famous for. These come equipt with the traditional Wilkinson Sustawin Block (Zinc-Alloy with Black Powdercoating). This Bridge comes complete (as shown) along with the Whammy Bar, Mounting Screws, Clawhook, and Springs, as well as an Allen Key for adjustments.
Katso myös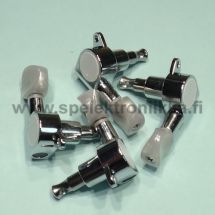 Tuote SVR21587. Virityskoneistot Ukulelen suljettu rakenne metallia kromi Pearl nuppi. Sisältää 4 viritintä ja ruuvit + holkit. Axle dia 6mm. Gear ratio 15:1.