Glow powder for lure making ice jig making bright pinkish red TFH®
Main Page > Ossilehti Fishing® fly fishing accessories > Toner powders for micro-balloon balls in TFH® > Toners for jig TFH®
Glow powder for lure making ice jig making bright pinkish red TFH®. Afterglow colour is bright pinkish red. Phosphor powder bright red glow powder afterglow fluorescent powder for color hooks TFH®. Backlight color pink red. Well, that phosphorus is not, but it is commonly called phosphorus powder. Very fine, abundant powder for coloring morri, hooks, lures, flies, etc ... points of impact, etc. Or anywhere you want something great for yourself in the dark for a while. Charges from sunlight, with UV LED light, can be charged with many standard LED lamps. Thanks to its fluorescent property, it also shines in UV light. Phosphorus color powder lyspowder, fluorine powder fluorine color, färgpigment fluopowder. The package can be a jar, a tube, a test tube, etc ...
Nämä TFH® fosforiväripurnukat sisältävät aivan aikuisten oikeasti vähintään luvatun määrän jauhetta. Jauhe pakkautuu purkissa tiiviimmäksi ja avattessa purkki voi se näyttää vajaalta (kuten jauhekaakaot jne ...), mutta purkissa on kuitenkin tuo luvattu määrä jauhetta. Jos teet vertailupunnituksia grammahinnoista kilpailijoiden aineiden kanssa, muista käyttää tarkkuusvaakaa, huom. 2 - 3 desimaalin tarkkuudella punnitsevaa. Tilavuusmitta vaikkapa millilitroina ei anna aivan oikeaa kuvaa pulverin määrästä koska pulveri ei välttämättä ole sekoittunut tasaisesti tai se on painunut kasaan kun se kaadetaan purkkiin voi tilavuusmitalla ilmoitettu määrä vaihdella suurestikkin.
Hiukkaskoko on aivan sikapieni, se on kuin pienen pientä pölyä. Voidaan sekoittaa esim. 2 -komponenttiliimaan, ei vesiohenteinen. Käytetään yleisesti pilkeissä ja myös uistinten silmien teossa liimalla. Sovelluskohteita on paljon myös muissa merkkauksissa.
Ei noista väreistä oikein saanut otettua sellaista kuvaa kuin miltä ne todellisuudessa näyttivät.
See also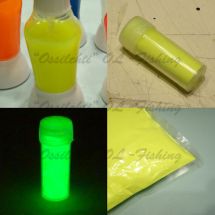 Afterglow colour is extra bright green.
This glow powder has blue afterglow colour.
Longest afterglow as also White has !!! Afterglow colour very bright green.
Longest afterglow time as also Extra Light Beige. Extra white colour, afterglow colour extremely bright cold blue almost like turquoise.
Afterglow colour is bright green.