Glow powder for lure making ice jig making orange TFH®
Main Page > Ossilehti Fishing® fly fishing accessories > Toner powders for micro-balloon balls in TFH® > Toners for jig TFH®
Glow powder for lure making ice jig making orange TFH®. Afterglow colour orange.  Phosphor powder bright orange toner glow powder afterglow fluorescent powder for color hooks TFH®. Backlight color orange. Well, that phosphorus is not, but it is commonly called phosphorus powder. Very fine, abundant powder for staining morri, hooks, lures, flies, etc ... points of impact, etc. Or anywhere you want something great for yourself in the dark for a while. Charges from sunlight, with UV LED light, can be charged with many standard LED lamps. Thanks to its fluorescent property, it also glows in UV light. Phosphorus color powder lyspowder, fluorine powder fluorine color, färgpigment fluopulver. The package can be a jar, a tube, a test tube, etc ...
These TFH® phosphor dye jugs actually contain at least the promised amount of powder for adults. The powder is packed more tightly in the jar and when opened, the jar may look incomplete (like powder cocoa, etc ...), but the jar still contains that promised amount of powder. If you are benchmarking gram prices with competitors 'substances, be sure to use a precision balance, note. Weighing to 2 to 3 decimal places. A volume measure, for example in milliliters, does not give a completely correct picture of the amount of powder because the powder may not be evenly mixed or has accumulated in a pile when it is poured into a jar.
The particle size is quite pig small, it's like a tiny bit of dust. Can be mixed with eg 2-component glue, not water-borne. Commonly used in icing and also in making lure eyes with glue. There are a lot of applications in other labels as well.
Ei noista väreistä oikein saanut otettua sellaista kuvaa kuin miltä ne todellisuudessa näyttivät.
See also
Afterglow colour is bright pinkish red.
Longest afterglow time as also Extra Light Beige. Extra white colour, afterglow colour extremely bright cold blue almost like turquoise.
Longest afterglow as also White has !!! Afterglow colour very bright green.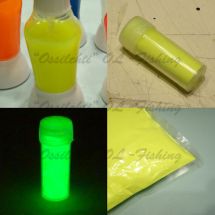 Afterglow colour is extra bright green.
Afterglow colour is bright green.
This glow powder has blue afterglow colour.