Glow powder for lure making ice jig making green afterglow TFH®
Main Page > Ossilehti Fishing® fly fishing accessories > Toner powders for micro-balloon balls in TFH® > Toners for jig TFH®
Glow powder for lure making ice jig making green TFH®.  Afterglow colour is bright green. Postcolor color bright green. Well, that's not phosphorus, but it's commonly referred to as phosphorus powder. Extremely fine powder of powder to the dyeing of lures, hooks, lures, butterflies, etc ... impact points etc. Or wherever he wants someone to glitter in the dark for a while. Charged with sunlight with UV-LED light, can be downloaded with many standard LED bulbs. Thanks to the fluorescence feature, it also smacks in UV light. Phosphorous toner lyspulver, fluorine powder fluorine, färgpigment fluopulver. The packaging can be a jar, tube, test tube, etc ...
These TFH® phosphor dye jugs actually contain at least the promised amount of powder for adults. The powder is packed more tightly in the jar and when opened, the jar may look incomplete (such as powdered cocoa, etc ...), but the jar still contains that promised amount of powder. If you are comparing weights per gram with competitors' substances, be sure to use a precision balance, note. Weighing to 2 to 3 decimal places. The volume measure, for example in milliliters, does not give a completely correct picture of the amount of powder because the powder may not be evenly mixed or has accumulated in the pile when it is poured into the jar.
The particle size is just pig small, it's like a little bit of dust. Can be mixed with e.g. 2-component glue, not water-borne. Commonly used for glitches and also for making lure eyes with glue. There are a lot of applications in other markings as well.
Ei noista väreistä oikein saanut otettua sellaista kuvaa kuin miltä ne todellisuudessa näyttivät.
See also
This glow powder has blue afterglow colour.
Tuote 111352. Färgpulver som du kan blanda med lim för att tillverka dina egna mormyskor eller limkrokar PURE WHITE inte fluorescerande 10g TFH®. Muovipurkissa. Erittäin...
Longest afterglow time as also Extra Light Beige. Extra white colour, afterglow colour extremely bright cold blue almost like turquoise.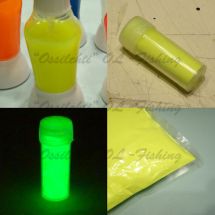 Afterglow colour is extra bright green.
Afterglow colour is bright pinkish red.