Rare earth neodyymi neodym supermagneetti sylinteri magneetti N42 supervoimakas 20mm x 20mm
Main Page > Electronic components etc ... > Magnetic tools reed magnet switches
Tuote 115306. Rare earth neodyymi neodym sylinteri magneetti N42 supervoimakas supermagneetti 20mm x 20mm. Magnetointi tasopinnoilla (eli toinen pää North toinen South). Kitaramikkien magnetointiin, tavaroiden nostoihin jne ... 5mm reikä, senkkaus toisessa päässä. Toimitus vain pakettina, ei voi laittaa kirjeeseen. Paino n. 50g.
Varo !!! Tosi voimakas, pakettiin täytyy laittaa kuplamuovia paljolti ettei tartu postituksen laitteisiin kiinni.
VAROITUS !!! Tosi voimakas, ole varovainen kun käsittelet ettei läsähdä sormille tms. Lohkeaa helposti jos osuu vauhdilla toiseen magneettiin tai magneettiseen esineeseen tai pintaan.
See also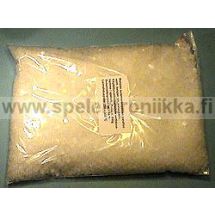 Tuote 102019. Parafin for guitar pickups, melting point 54 - 58 ºC. 500g polybag, more info in our web pages in "speksit". Kitaran mikkien parafiini, matalan...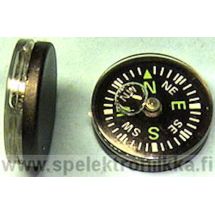 Tuote 102053. Kompassi 8 mm x 25 mm, mikrofonimagneettien napaisuuksien testaamiseen ym. ym. Ei sovellu suunnistukseen. Compass, can be used for example testing pickupmagnets...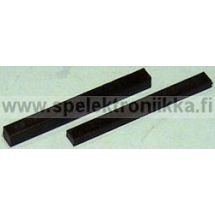 Tuote 102028. Muoviset korotepalat humbucker mikrofonien alle. Plastic shim for humbucker bobbin. Sizes:
3 x...
Tuote 102041. ALNICO 2, Ø 5mm (0.195") ALNICO 2 flat top guitar pickup magnets, soveltuvat ylä, ala ja keskimikin magneeteiksi (FRM). Alnico kakkosia muunmuassa Seymour...
Product 104678. Guitar microphone winding wire, pickup wire AWG43 / 0.055 mm yarn  approx. 25.3g / 1km, approx. 6 kohm / 1km.

One...
Tuote 102040. ALNICO 5, magneetti Ø 5mm (0.195") ALNICO 5 flat top magnets for guitar pickups soveltuvat ylä, ala ja keskimikin magneeteiksi (FRM). Vintage non staggered...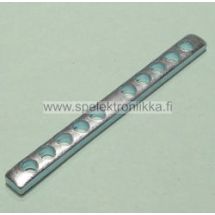 Tuote 102027. "Magneettijohdin" humbucker mikrofonin alle. Johtamaan magneettikenttä polepieceihin. Käyttö POLESCREW ruuvien...
Vintage pushback 18 awg stranded wire !!!
Shielded hotrail cable for guitar pickups and many other applications.