Siirtokuvakalvo etulevykalvo decal kalvo Lasertulostimelle n. 213 x 280 mm
Main Page > Parts for musical instruments > Machineheads and other parts Boston / SPG > Decals
Tuote 101335. Siirtokuvakalvo etulevykalvo decal kalvo Lasertulostimelle n. 213 x 280 mm "Amerikkalaisten A4". USA !!! HUOM !!! Nämä koot poistuvat kun loppuvat, tilalle saman valmistajan samanlaisella kunnollisella taustapaperilla olevat A4 koot !!! Pienoismalleihin, soitinrakennukseen, askarteluun ym... Käynnistä laser juuri ennen tulostusta ettei sen rumpu turhaan kuumene liikaa, jos rumpu on liian kuuma voi kalvo sulaa. Tarkoitettu käytettäväksi tavallisilla pienillä kotikäyttöön suunnatuilla lasereilla, ei ammattikäyttöön suunnatuilla tulostimilla, ne kuumenevat liian kuumiksi. Tulostuspuolen pinnan suojana on ohut irtopaperi, poista se ennen tulostusta.Tulostusasetukset tyypillisesti valokuva / kalvo. Tulosta kuva / leikkaa kuva irti tulosteesta / irrota kuva pohjapaperista kädenlämpöisessä vedessä liottamalla / siirrä kuva varovasti liu'uttamalla kohteeseen / anna kuivaa. Soveltuu koville pinnoille mm... puu, muovi, metalli, lasi, keramiikka jne... Voidaan lakata. Koko n. 213 mm x 280 mm (lähellä letter kokoa). LUE LISÄTIEDOT !!! Pakkaus sisältää 5 kpl kalvoja.
Siirtokalvoilla tehtyjä kuvia puuhun kiinnitettynä ja lakattuna
Käynnistä laser juuri ennen tulostusta ettei sen rumpu turhaan kuumene liikaa, jos rumpu on liian kuuma voi kalvo sulaa. Tarkoitettu käytettäväksi tavallisilla pienillä kotikäyttöön suunnatuilla lasereilla, ei ammattikäyttöön suunnatuilla tulostimilla, ne kuumenevat liian kuumiksi.Soveltuvuutta laserillesi ei tiedä etukäteen se selviää vain kokeilemalla, jotkut uudemman sukupolven printterit eivät välttämättä sovellu paperille.Jotkut, (yleensä nykyaikaiset ja pienikokoiset) laserit kuljettavat paperin niin tiukalla mutkalla tulostettaessa ettei tällainen paksummalla taustapaperilla oleva kalvopaperi välttämättä tahdo mennä läpi. Tätäkään asiaa ei tiedä muuta kuin kokeilemalla.Tuotteen käyttö vaatii harjoittelua ja malttia jotta saisit kuviensiirron onnistumaan hyvin.Tarkista tulostimen käyttöoppaasta tai valmistajalta että tulostin toimii tällaisilla materiaaleilla. Emme ota vastuuta miten tuote käyttäytyy tulostimessasi ja soveltuuko vai eikö tuote sovellu tulostimellesi. Käyttö omalla vastuulla.
See also
Tuote 103989. Catch & Release vaihtohavas koko 56 x 53 cm TFH®. Solmuton, pehmeä ja sileäpintainen havas. Koko lev. yläosa n. 56 cm, lev. alaosa n. 35 cm, syv. 53...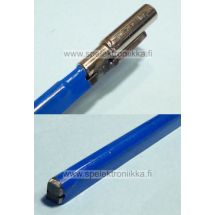 One of our best sellers in truss rods !!!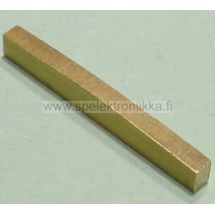 Tuote 113403. Satula-aihio, messinki ST style 43.0 x 5.8 (5.1) x 3.5 mm. Ei kieliuria. Leveys 43mm, korkeus keskeltä 5.8mm, korkeus päistä 5.1mm, paksuus 3.5mm. Messinkinen...
Tuote 103049. Truss rod, bar model 6.25 mm, 460mm, 4 mm allen nut, UNF-10-32 thread. Trussirauta, kaularauta TRU460K, yksitoiminen, 4 mm kuusiokanta. UNF-10-32 kierre. Mitat...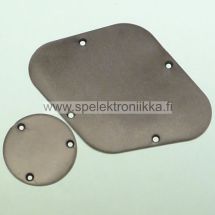 Tuote 115386. Peitelevysetti potikoille ja kytkimelle LP matt black 1PLY. Setissä potikoiden ja kytkimen peitelevyt.
Tuote 105733. Mikrofoninpidike, mikrofoninpidin, puristussovite (MH1).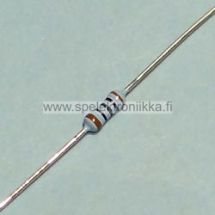 Tuote 106387. Hiilikalvovastus 22 kohm, 5%, 0.25 - 0.5W.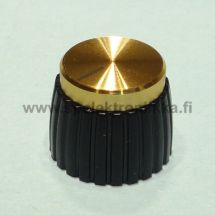 Tuote 109786. Marshall tyylinen potikan nuppi osoittimella "push to fit", kulta. Korkeus n. 15.1mm, maksimileveys n. 19.5mm. Pysyy kiinni lovetussa ja uritetussa 6...
Tuote 102025. Pickup polepiece screw Vintagetyylinen säätöruuvi mikrofoneihin POLESCREW NICKEL. Vintagetyylinen säätöruuvi mikrofonirunkoihin missä on kavennus magneettireiässä, vintage...