Virityskoneisto 6L Schaller Kromi 10100220.01.36 Da Vinci
Main Page > Parts for musical instruments > Machineheads and other parts Schaller > Virityskoneistot kitaralle Schaller
Tuote 114602. Virityskoneisto 6L Schaller Kromi 10100220.01.36 Da Vinci. Setissä 6 tuneria. Gear ratio 1:18. Da Vinci tunereihin on suunniteltu erikoishammasrattaat, niissä ei käytetä voiteluaineita, eli rasvalillinki ei näy ikkunasta.
Da Vinci ELEGANCE IN TUNE. Gear ratio 1:18. With its stunning appearance the new Schaller Da Vinci tuner opens up a fresh and original dimension to guitar tuning and tuner design. Along with its elegant shapes and precious finishes comes the legendary Schaller quality of materials and workmanship. STYLE PRECISION INNOVATION While the Da Vinci's unique window – specially hardened and UV-resistant – lets you enjoy the beauty of design and functionality it also protects the precious inner life from environmental influences making your Schaller Da Vinci a true gem and a long lasting investment. But we did not stop at being pretty. The Da Vinci is a state-of-the-art tuning machine featuring flawless construction, ultra smooth action and unparalleled tuning stability. Elegance in Tune is a promise we are proud to give to our customers. A promise we believe is precisely what you have come to expect from Schaller – The Original Innovators. • The transparent cover plate is made of a specially developed high-quality scratch-proof polycarbonate that is also resistant to chemical cleaning agents. It is also resistant to UV light and to extreme temperature changes. • The worm gear has been completely redesigned to provide previously unknown tuning precision in a machine head of this type. Featuring a new surface, this tunehead provides the same delicate fine tuning normally associated with enclosed greased machine heads. By extensive research for new materials and optimized geometries the Schaller Da Vinci tuning gears allow for superiour performance without grease or polymere lubrication. Another benefit of these measures is the greatly improved sound transmission and frequency coupling to the headstock. Furthermore the absense of grease along with the light polycarbonat window replacing the metal cover helps to reduce overall weight. This makes the Da Vinci not just a true style icon but a highly advanced and musical tuning machine.
See also
Tuote 106212. Vaihtokytkin kahdelle mikrofonille, 3 -as. Peltikuori + maakorvake. Runko-osa, syvyys 18.0mm, leveys, 15mm, pituus 28mm. ON/ON/ON. Näkyville jäävä mekaniikka...
Tuote 105446. TALLA06CR, TC -tyylinen talla humbuckerille, kromi. Tele TC -tyylinen sähkökitaran talla humbucker malli, setti sisältää tallan + ruuvit. Kuudelle...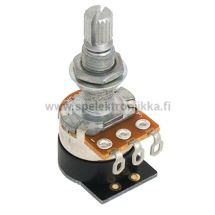 Tuote 101951. Kitaran potentiometri. SHADOW 25K LOG. KILL POT (SH-124-25). Maailmalla hyvin suosittu potikka rokkinikkarien piireissä. Aktiivimikeille. You...