Virityskoneisto 6L Schaller Black Chrome 10060420 M6 Locking
Main Page > Parts for musical instruments > Machineheads and other parts Schaller > Virityskoneistot kitaralle Schaller
Tuote 114590. Virityskoneisto 6L Schaller Black Chrome 10060420 M6 Locking. Setissä 6 tuneria. Gear ratio 1:16.
With this tuner the string is locked in the shaft by a handy knurled nut located on the rear of the peghead, resulting in a low overall height. 6-in-line models with two different shaft lengths (staggered). Gear ratio 1:16. • Schaller was the world's first manufacturer who developed the locking tuner and had it patented more than 20 years ago! • Works like a traditional machine head, but the string needn't be "wound up" any more. Instead it is inserted into the cam hole with the clamp screw loosened, locked with the clamp screw and can then be tuned at once. • This makes changing your strings a lot faster and easier. • Only this patented locking system based on the ball socket principle prevents reliably from string notching and breakage. • The string will not be wound onto the shaft any more. So it will stay in tune extremely well, perfect for non-locking tremolo systems. • With all its benefits the Schaller locking tuner is THE benchmark in the guitar sector! • All sealed tuners are lubricated with Schaller special grease for lifetime maintenance-free service. • All parts are precision-crafted and surface-finished, the self-locking drive ensures an even, delicate and steady tuning. • All string posts are made of high-grade brass and fitted into the housing with utmost precision, ensuring the best possible tuning accuracy and wear resistance. Instructions: 1. Unscrew the knurled screw on the housing anti-clockwise until the clamping ball comes off. 2. Now press the strings against the clamping ball. Under pressure, it recedes. You can now put the guitar string through the adjusting axis. 3. Screw the knurled screw clockwise until it is hand tight. The string is now secured by the clamping ball. 4. Now you can tune your strings.
See also
Tuote 103239. Oak Grigsby mikrofoninvaihtokytkin 3 -asentoinen ruuvit mukana, originaali made in USA. Käytetty mm. Fenderin kitaroissa 1995 jälkeen. Kolmella vaihdolla...
Tuote 104054. Puolipallokanta musta millikierre 3025BKMR. 3 x 25 mm, metric, BK, round. Soitinrakentelussa käytettäviä ruuveja. Mounting...
Tuote 114637. Talla sähkökitara Schaller Hannes hiilikuitu 12010400 Black Chrome. The new Hannes® bridge by Schaller - best of all worlds! A splendid fusion of innovation...
Tuote 104396. Monorunko 6.3mm, Neutrik, ei kytkintä.
One of the most popular lengths and models in our selection !!!
Tuote 109985. Titebond Ultimate III vedenkestävä puuliima 237 ml 8 OZ. Titebond Ultimate III on ulko- ja sisäkäyttöön soveltuva liima. Täyttää ANSI/HPVA Type...
Tuote 104124. Ovaalikanta kulta puuruuvi 2528GDW. 2.5 x 28 mm, wood, GD, oval. Soitinrakentelussa käytettäviä ruuveja. Mounting...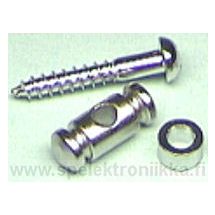 Tuote 111319. Kieltenohjain SH8COSMOBLK, black crome. Kieltenohjain lieriö. String retainer cylinder. SH8COSMOBLK height bottom 2.5 mm, top 4.1 mm, stringspread 7...
Tuote 104159. Ovaalikanta kulta puuruuvi 4245GDW. 4.2 x 45 mm, wood, GD, oval. Soitinrakentelussa käytettäviä ruuveja. Mounting...