Talla sähkökitara Schaller Hannes hiilikuitu 12010400 Black Chrome
Main Page > Parts for musical instruments > Machineheads and other parts Schaller > Kitaran tallat Schaller
Tuote 114637. Talla sähkökitara Schaller Hannes hiilikuitu 12010400 Black Chrome. The new Hannes® bridge by Schaller - best of all worlds! A splendid fusion of innovation and tone in top quality - straightforward and noble.
The basic facts: by far the most comfortable bridge on the market; the perfect blend of the acoustic properties of all current bridge designs; impresses with detailed highs, fast attack and a well-defined, powerful and harmonic sound; touch-friendly material and smooth surface with no edges wear-free by waiving of metallic coatings at the string contact points; fresh, but unobtrusive look which gives the guitar design still a more noble apparance. Supplied with accessories. Features Model: Carbon fiber Support: Adjustable Surface: Black Chrome Measurements l x w x h (mm): 74x54x12 Weight g/item: 110 Bore mm: 5,5
See also
Tuote BAH1012. Kaulan kiinnitysruuvin holkki, BAH1012BK, musta, kauloihin missä ei haluta tai ei voi käyttää levyä. Neck mounting ferrule. Ulkohalkaisija n. 14...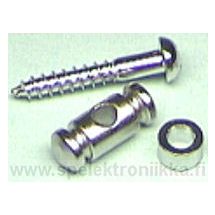 Tuote 111319. Kieltenohjain SH8COSMOBLK, black crome. Kieltenohjain lieriö. String retainer cylinder. SH8COSMOBLK height bottom 2.5 mm, top 4.1 mm, stringspread 7...
Tuote 103391. Satulaviila (setti) Hiroshimafile (Hosco) type 1, 3 erillaista kaksipuoleista.
Koot: 0.016"/0.042", 0.026"/0.050", 0.036"/0.055"
Tuote 104118. Ovaalikanta kulta puuruuvi 2515GDW. 2.5 x 15 mm, wood, GD, oval. esim. Humbucker kehyksiin. Soitinrakentelussa käytettäviä ruuveja. Mounting...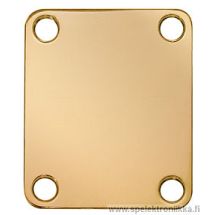 Tuote 103055. Kaulan kiinnityslevy KAULE1GD, kulta. Neck joint plates. Laadukas, hyväpinnoitteinen ja tukeva Boston Musical Products. Screw holes for 4 flat or oval...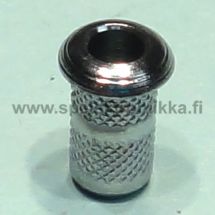 Tuote 109272. String thru top ferrule crome KPH521CR. String thru top ferrules. Strings can be mounted without tailpiece. Runko 4 mm, laippa 5.5 mm, reikä 2.5 mm, pituus...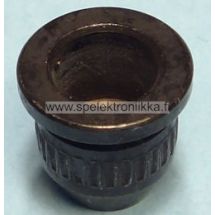 Tuote 104626. Kieltenpujotusholkki KPH22BLK musta, string bushing. Mitat lisätiedoissa. Boston Musical Products tai OL Guitarparts Korea.
Tuote 104124. Ovaalikanta kulta puuruuvi 2528GDW. 2.5 x 28 mm, wood, GD, oval. Soitinrakentelussa käytettäviä ruuveja. Mounting...
Tuote 104112. Ovaalikanta kulta puuruuvi 2110GDW. 2.1 x 10 mm, wood, GD, oval. Soitinrakentelussa käytettäviä ruuveja. Mounting...