Kulkuset puukahvalla 7 n. 25 mm kulkusta Hayman
Main Page > Musical Instruments > School instruments > Rhythm instruments for kids
Tuote 114234. Kulkuset puukahvalla 7 n. 25 mm kulkusta Hayman. Hand jingle bells, with handle, wood and leather, 7 bells of 25 mm. Kahvan pituus n. 10 cm.
See also
Tuote 114477. Rytmimunat munamarakassit pitkä varsi muovia sininen 50g. Pari. Kokonaispituus n. 18 cm, varsiosa n. 14 cm. Kuten Stagg, Mano jne ...
Tuote 104049. Puolipallokanta kulta millikierre 2532GDMR. 2.5 x 32 mm, metric, GD, round. Soitinrakentelussa käytettäviä ruuveja. Mounting...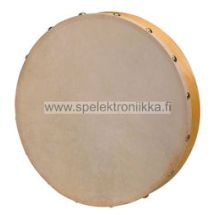 Tuote 111134. Kehärumpu 25cm / 10" puinen, kalvo aitoa nahkaa ei mallettia mukana. Hand drum, rawhide skin, wood, natural finish, 10".
Tuote 114229. Hand drum, rawhide skin, wood, natural finish, 8". Not suitable for childrens play because the leather film can be easily broken by improper use.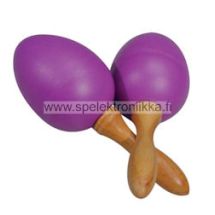 Tuote 114479. Rytmimunat munamarakassit Bambino koko muovia violetti 25g Hayman / DaDi jne .... Minikokoiset, kokonaispituus vain n. 10cm, varsiosa n. 5cm.
Kuten Stagg...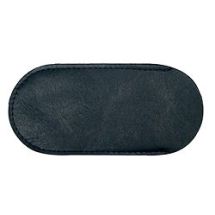 Tuote 101965. Nahkainen blueshuuliharpun säilytyspussukka, suojaa huuliharppua naarmiutumiselta ja lialta.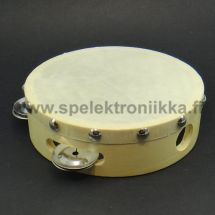 Tuote 114230. Tambourine made of wood and leather film single-row rattles 6 "(15 cm). Four rattles with perimeter. Finger hole. Not suitable for children's play because...
Tuote 102788. Otelautanauha Sintoms Ltd FRETWIRE20H (HV200) 40cm. Nickel / Silver = (German Silver, Paktong, New Silver). Toimitetaan n. 40 cm pätkissä. FRETWIRE20H kovuus...
Copper foil tape for RF shielding, extremely useful for guitars and other equipments for hum canceling.