Kangaba kalimba, coconut kalimba
Main Page > Musical Instruments > School instruments > Rhythm instruments for kids
Tuote 114944. Kangaba kalimba, coconut kalimba. No mitäpä tuohon enään muuta sanoisi.
Kangaba is the historic capital of the Mandingo Empire, located 90 kilometers from Bamako to the Guinean border. Kangaba instruments are all produced in traditional way. Carved from the best woods by the best blacksmiths, assembled with natural goat skins, Kangaba drums transmit the original vibration, warmth and power from the Mandingo empire. Since 2000, Kangaba plants (with the participation of its artists) a variety of trees they use to produce instruments.
See also
Tuote 113351. Juottimen teline juotoskolvin pidike juottimen teline kolvin teline, sieni + alusta + jousi.
Tuote STN22206. Tinaimusukka SP1515 tinaimunauha 1.5mm pituus 1.5m. Tiheäpalmikkoinen hyvän imukyvyn omaava sukka.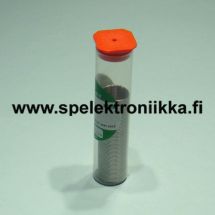 Tuote 103625. Tinaputkilo, juotostina lyijytön 15g, tinan halkaisija n. 1.0 mm. Lyijytön. Seos Sn99,3Cu0,7. Putkilo voi olla erinvärinen tai erinmallinen kuin kuvassa.