UV keychain LED light UV led lamp 373 nm
Main Page > Electronic components etc ... > LEDs, LED News, Accessories ... > UV LEDs UV lamps UV lightbulbs
Product 113533. UV key chain LED light UV led lamp 373 nm +/- 5nm. Measured optical radiation power of 1 cm from the 30 mA constant current of about 8 mW !!! The light comes on by squeezing the bark lightly or by switching the light on all the time. For money recognition, tape loading and in some cases even for some UV binders for fly bindings. 2 x CR2016 batteries (included). Note that this wavelength is already low enough that the human eye does not really see it, so the LED looks "dull" and "rough" even though there is still a charge left in the battery. DO NOT LOOK DIRECTLY TO LEDs can damage the eyes !!!
See also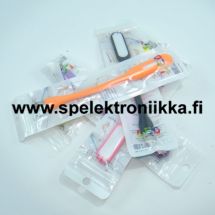 Tuote SSB22771. USB LED valo LED valaisin LED yövalo taivuteltava kevyt hyvä apuvalo läppärille, kevyt, valkoinen valo kuorien värit sekalaisesti mitä sattuu. Oivallinen...
Tuote 109130. Superkirkas LED 5 mm pinkki tyypillisesti 1500 mcd. Kulma 15 astetta. VF typically 3.1V (2.9 - 3.6V).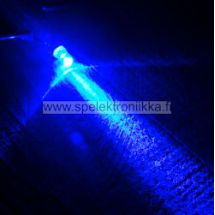 Tuote 109125. LED 5 mm superkirkas sininen tyypillisesti 4900 mcd. Minimi 2200 mcd, kulma 16 astetta. VF typically 3.2V (2.8 - 4.5V). Peak 470 nm.
Tuote 109124. Superkirkas LED 5mm Cool White typ. 60000 mcd. Kynnysjännite typically 3.0 - 3.8 V.
Säteilykulma 15 astetta. 50 mA max.
Tuote 109160. Superkirkas LED 5mm Punainen min. 8000mcd, typ. 10000 mcd. Kynnysjännite typically 1.8 - 2.4 V. Säteilykulma 15 astetta. Peak 630 nm.
This glow powder has blue afterglow colour.
Tuote 109111. Superkirkas LED 5mm Deep Amber typ. 18000 mcd. Kynnysjännite typically 1.8 - 2.6 V.
Säteilykulma 15 astetta.
Tuote 114109. UV LED 5mm 373nm +/- 5nm. Forward voltage 3.3 - 4.8V. I max 20mA. 50% power angle 20 degrees. Huom !!! Koska tämän LED:in aallonpituus on noin matala, näyttää sininen...