Electric paint electrically conductive paint 30ml black
Main Page > Electronic components etc ... > Piirilevyt ja tarvikkeet > Piirilevyn valmistus
Tuote 108587. Electric paint 30ml black. Thick mixture, it is advisable to always mix before use, with water getting more fluid. Water-based, does not contain metals, does not tolerate freezing, not tinnable. For repairs, crafting, wiring experiments on components integrated in fabric, making capacitive switches, making touch switches, a variety of repair work, RF shielding, etc ... RF good.
Since the paint is not tinnable, the contacts must be pressed onto the paint and locked with, for example, glue, staple, tape, etc ... Suitable for a wide range of small-current demonstration stories, eg LED ignition, low-current sound coupling, etc ... The ohmic resistance of the painted line depends on the width of the paint layer and thickness and density. The current resistance is small and depends again on how much paint there is. The drying time is fast or slow, depending on the thickness of the paint layer.
Voimakkaasti ja salakavalasti sotkeva aine, kun vähän aikaa tuuskaa tämän kanssa, niin johan alkaa mustaa olemaan siellä täällä ja varsinkin siellä missä sitä ei tarvitsisi olla.
Lähtee pois pesuaineella ja vedellä tuoreeltaan aika hyvin. Kuivuttuaan kestää vettä yllättävän hyvin.
Alakuvassa olevien koeviivojen ohmisia noin arvoja.
Ohuemmat viivat leveys vaihtelee 1 - 3 mm.
Pituus n. 1cm mitattu n. 20 ohm, 2cm mitattu n. 40 ohm, 3cm mitattu n. 50 ohm, 4cm mitattu n. 60 ohm, 5cm mitattu n. 73 ohm, 6cm mitattu n. 100 ohm.
Paksummat viivat leveys n. 7cm.
Pituus n. 3cm mitattu n. 33ohm, pituus n. 5cm mitattu n. 38ohm.
Arvoihin vaikuttaa monenlaiset asiat mm. maalipinnan paksuus, leveys, maalin tiheys, mittauskohta jne ... täsmällistä toistuvuutta ohmisille arvoille lienee vaikea saavuttaa jos sellaiseen pyrkii.
See also
Tuote 105608. Trussiraudan peitelevy " Bell " malli, black / white. Trus srod cover, black/white, plastic. Hosco. Asennus musta puoli ylöspäin. Suojakalvo.
Copper tape for RF shielding, extremely useful for guitars.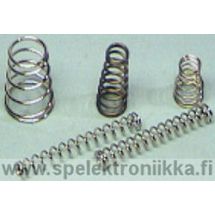 Tuote 102956. Jousipuuhapussi Spring pack 1 esim. mikrofoneille, talloihin ym. Myydään myös yksittäin. Spring packages to pickups, etc. Each package includes 10...
Tuote 101938. Nuppi, TOGGLENUPGD kulta metallinuppi millikoko. TOGGSW1CW ja TOGGSW1ICC:lle, EI YM-T, EI Switchcraft kytkimille. Gibson tyylinen nuppi. Millikoko.
Tuote 101894. Microphone changeover switch TOGGSW1GB (gold / black). LP style toggle switch for two microphones, 3-position. comes with a black knob. Visible mechanics gold. The...