Grafiittisatula 6 -kielinen kitara NTC6
Startsidan > Gitarrdelar gitarrtillbehör Instrumentbygge tillbehör > Gitarrdelar gitarrtillbehör OL / SPG / Boston > Stallben Översadlar > Satulat satula-aihiot Grafiittia
Tuote 102979. Grafiittisatula 6 -kieliselle kitaralle. Graphite pre slotted saddle to 6 -string guitar. Suora ja viistottu, straight and oblique,
52mm x 5mm x 8.5mm, (2.05x0.2x0.33").
Katso myös
You tubessa runsaasti aineistoa mm. French Polishing tekniikasta.
Tuote 109437. Akustisen (klassisen) kitaran muovisatula ivory ala SD829511. Blank plastic saddles for acoustic / classic guitars. Pituus 80mm, paksuus 2.8 mm, viisto n. 9.5...
Tuote 103192. Otelaudan sivumerkit muovia. Fretboard side dot materials plastic. Length approx. 50 mm (1.969"). Dia. approx. 1.5 mm (0.059") or 2.0 mm (0.079").
Monisäikeistä laadukasta pushback vintagelankaa !!!
Tuote 103572. Klassisen kitaran kielet. String set classic, clear nylon trebles & silverplated basses.
Tuote 104657. Sähkökitaran virityskoneisto SPG698CRLR 3L/3R, kromi, SPG / Boston. Laadukkaita virittimiä omalla tuotemerkillämme tai Boston...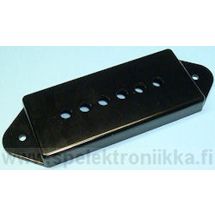 Tuote 102567. DOGBLK dog ear tyylinen vintage P90 setti 2kpl kuoria pitch 49.2 mm musta. Korkeus / height: 6.6 / 10 mm. Polepiece spacing 49.2. Korvakkeiden reikäväli / ear...
Tuote 114640. Rullatalla sähkökitara Schaller 12080100 STM Nikkeli. Mittakuva High-quality bridge for all Les Paul™* type guitars. Compatible with post spacings from...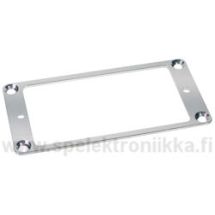 Tuote 102583. Mikrofonikehys, metallia, humbucker mikrofonikehykset, paksuus n. 2.5 mm, ulkomitat n. 45 mm x 90 mm, sisämitta n. 39 mm x 70 mm. Tasainen, flat. Metallic...