Ferriittitanko ferriitti n. 10 mm x 100 mm
Main Page > Electronic components etc ... > Antennit ja tarvikkeet > Radio TV WLAN ym. antennit
Tuote 107081. Ferriittitanko ferriitti n. 10 mm x 100 mm. Käytetään tyypillisesti antennin ferriittinä taajuuksille alle 1MHz. Lankana käytettiin ennenvanhaan litz lankaa esim. 5 x 0.06 - 0.08.
See also
Tuote SCP20911. IC piirin jousikanta 40 nap. leveä lev. 15,24 mm. Kuva suuntaa-antava.
Tuote 114190. Piirilevyteline juotostöihin levyn maksimikoko n. 140 x 220mm. Pieni kätevä oivallinen apuväline kun joudut pyörittelemään piirilevyä huollossa, koonnassa...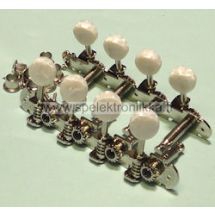 Tuote 102121. Mandoliinin virityskoneisto SP044NMA A malli kromi. Metalleissa koristeleimaukset. Setissä virityskoneistot 1L ja 1R + holkit ja ruuvit. Helmiäisjäljitelmä nupeilla...
Product SKM21960. Compass diameter 75mm with metal cover. Relatively free moving needle. The flat base can easily be fastened to a sticker, for example. Not waterproof.
Tuote 103951. Ferriitti N48-250, ferrite N48-250, 2 kpl. Eli kumpikin puoli tai pari, kumminko sitten haluaa sanoa.
!!! LOPPUERÄ !!!
Tuote 114109. UV LED 5mm 373nm +/- 5nm. Forward voltage 3.3 - 4.8V. I max 20mA. 50% power angle 20 degrees. Huom !!! Koska tämän LED:in aallonpituus on noin matala, näyttää sininen...
Tuote 101521. Polymorph is an excellent reshapable plastic for many small repairs and, for example, for making pike fly heads, lures, fatigue of various models, etc...
Tuote 112307. NE612AN. Mixer.
Tuote 109248. Reunalista, reunanauha kitaraan ABS, White FWHT1560. Mitat noin mittoja. White, 1.5 mm x 6 mm x 1600 mm, (0.059x0.24x63").