Larva maggot UV sensitive red size approx. 20 mm sold in 10 bags
Main Page > Ossilehti Fishing® fly fishing accessories > Trolling accessories ice fishing accessories TFH® > Silikoniöttiäiset TFH®
Product 111149. Larva maggot UV sensitive red size approx. 20 mm sold in 10 bags. A soft watery stretchy creature. Length straightened approx. 20 - 23 mm, thickness max. n. 6 - 6.5 mm. Perch flies angling. In the lower images in UV light in dark and light.
UV valossa väri näyttää vaalean ruskean kellertävältä. Nuo sivulla näkyvät ohuet jutut on toukan valmistuksen pursotus jäämiä.
See also
Afterglow colour is bright green.
Tuote 102292. Kolmihaarakoukku, klassisen muotoilun omaavat O'Shaugnessy tyyliset kolmihaarakoukut. Suora silmukka. Väri: Pronssi. Kutsutaan joskus myös J -tyypin koukuksi. Edullinen...
Longest afterglow time as also Extra Light Beige. Extra white colour, afterglow colour extremely bright cold blue almost like turquoise.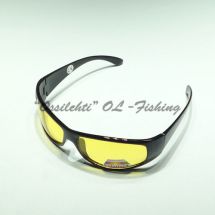 Polarized sunglasses, with these sun seems to be shining all the time !
Afterglow colour is bright pinkish red.