Otelautanauhan viila Hiroshima Files 1R, small red
Main Page > Parts for musical instruments > Machineheads and other parts OL / SPG / Boston > Fretwires and tools Bender, Tang nibbler ...
Tuote 109361. Otelautanauhan viila Hiroshima Files 1R, small red. Frettinauhan kruunuosan viilaukseen. Sama kuin Hoscon TLFF1 small blue. Koska kahvan värit ja viilojen nimitykset vaihtelevat on samalla viilalla kaksi koodia, emme tilatessamme tiedä mitä kahvassa lukee.
See also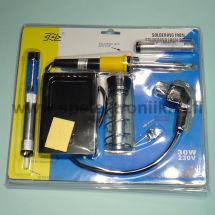 Tuote SKL23343. Kolvailijan satsi Malli B kolvi 30W, oikea teline (ei sellainen pellinpala), sieni, lyijytön tina, tinaimuri.
Tuote 102281. Boston CCNT klassisen kitaran kielet. String set classic, normal tension, clear trebles & silverplated wound basses.
Tuote 111174. Jakoavain 8" leuat aukeavat n. 26mm:iin.
Tuote 105718. Akustisen kitaran teräskielet 12 -kielinen Boston AP112L.
String set 12-string acoustic, phosphor bronze, light...
Tuote 114195. Pienoisporakonesetti askarteluun hiontaan muotoiluun jne ... akkukäyttöinenn. Balsan, erillaisten askartelumassojen ym. pehmeiden materiaalinen käsittelyssä, muotoilussa...
Tuote 102275. Gotoh® virityskoneisto 35G 1600 EWS klassiselle kitaralle, kulta. Kielitapit muovia, kuva 35G. Välitys 1:14. Ruuvit mukana. Valkoiset...