Otelautanauhan "Tang Nibbler / Tang Nipper" pihdit TLFTN2, medium
Main Page > Parts for musical instruments > Machineheads and other parts OL / SPG / Boston > Fretwires and tools Bender, Tang nibbler ...
Tuote 103398. Otelautanauhojen guitar fret tang nibbler / tang nipper pihdit, Made in Japan, Hosco TLFTN2 medium, for approx. 2.4 to 2.7 mm crown. Ammattikäyttöön suunnattu otelautanauhatyökalu. Työkalu on tehty teräksestä. Pihtien kärjet on tehty erikoisteräksestä. Pihtien karkaistut kärjet on suunniteltu kestämään ammattimaista nauhojen käsittelyä, mutta valmistaja ei suosittele pihtejä käytettäväksi ruostumattoman teräksen katkaisuun. HUOM !!! Silloin tällöin kitaroita rakentava !!! Älä heitä toivoasi ammattikäyttöön suunnattujen Tang Nibblereiden hinnan suhteen, erinomainen vaihtoehto löytyy meidän "Nakertajasta" pienellä puuhastelulla.
HUOM ! Ei suositella ruostumattoman teräksen eikä kellopronssin katkaisuun !
Katkaise nauhan pää suoraksi ja jäysteettömäksi. Suorista nauhaa siten että nauhan pää asettuu pihteihin hyvin.
HUOM !!! Näitä ei luonnollisestikaan oteta takaisin mm. syillä "ei toimi niinkuin pitäisi jne ... " eli ei anneta koekäyttöön. Jos ovat täysin käyttämättömät avaamattomassa pakkauksessa, silloin tietenkin.
Kokomerkintä stanssattu pihtien kahvojen päähän, S = small, M = medium, J = large (jumbo).
Kokomerkintä viittaa pihtien kärkiosassa olevan reiän kokoon, tuo reikä määrittelee kuinka isokruunuinen frettilanka sopii pihteihin. Mitä sopivampi frettikruunun koko ko. reikäkokoon verrattuna, sitä "tarkemmin" saa jalkaosan poistettua ja "frettilanka lukittuu" paremmin pihteihin leikattaessa. Mutta kuitenkin, isoimmalla saa leikattua kaikkia malleja, mutta ohuet langat vaativat huolellisuutta enempi jne ... johtuen juuri tuosta lukitusjutusta. Erittäin helppoja käyttää, hyvä jälki. Muista katkaisun jälkeen "heilauttaa" katkaistu jalanpätkä pois. Jos tekee koko ajan pienillä nauhoilla olevia soittimia, silloin kyllä kannattaa ehdottomasti valita S tai M käyttömukavuuden vuoksi.
S -koko maksimissaan noin. 2.5 mm kruunuleveydelle.
M -koko maksimissaan noin. 2.8 mm kruunuleveydelle.
L (Jumbo) -koko maksimissaan noin. 3.0 mm kruunuleveydelle.
-------------------
M -kokoon meni myös 2.9 mm, mutta se oli tiukahko eikä käyttömukavuus ollut enään sellainen kuin esim. 2.6 mm nauhojen jalkojen katkonnassa.
See also
Tuote NSS1650. Nitroselluloosalakka Sonic Blue spray 500ml kitaroille. Kitaroiden lakkaukseen vintagetyylillä. Nitroselluloosalakka spray purkissa 500 ml.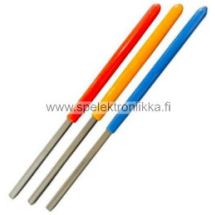 Tuote 113382. Fret End File TL-FE2 Medium Hosco R = 2 mm 1kpl. This fret dressing file is designed for fret end work. Pencil shape of these tools...