Peukaloplektra celluloidia medium sekalaiset värit
Main Page > Accessories for music > Guitar pick's
Tuote 114941. Peukaloplektra celluloidia medium sekalaiset värit.
See also
Tuote 104110. Ovaalikanta nikkeli puuruuvi 2110NIW. 2.1 x 10 mm, wood, NI, oval. Soitinrakentelussa käytettäviä ruuveja. Mounting...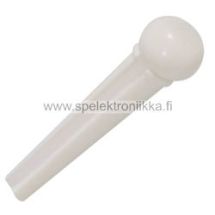 Tuote 109475. Akustisen kitaran tallanasta tallapinni muovia Valkoinen TPWHABS. Bridge pin, plastic, white.
Tuote 114726. Hihnalukko Schaller 14010401 Black Chrome pari. The Original! Ingenious design, superb materials and outstanding quality define our worldwide market leader. For...
Tuote 103550. Vetosolenoidi G-1250, 24VDC nimellisjännitteellä ja 25% duty cyclellä toimiva suuren vetovoiman omaava vetosolenoidi. Käämin vastus 20 ohm, vetopituus...
Tuote SPR21120. Paristokotelo 9V 6F22 / 6LR61 / PP3 kannella kytkimellä ja johdoilla. Koko n. 21 x 35 x 70 mm. Johto n. 15 cm.
Tuote 103085. Plektranpidin tarralla PHBK. Pick holders, self adhesive. Muovia, plastic.
Tuote 108340. Nappimallin Rare earth magneetti 3 x 10 mm. Rare earth magneetti (neodium). Näillä on noin 10 -kertainen energia verrattuna ferriittimagneettiin. Puristettua...
Tuote SSR20367. Sormiplektrat selluloidi koko "large" sekalaiset värit.
Tuote 103308. GST282BK. Musta topattu kitarahihna, kartioniiteillä. Päältä keinonahkaa, vuoraus aitoa nahkaa. Leveys 60mm, paksuus 6mm, pituus säädettävissä 120cm...