ST -tyylinen pleksi 3 x singlecoil white, black. white ST33WBW
Startsidan > Gitarrdelar gitarrtillbehör Instrumentbygge tillbehör > Gitarrdelar gitarrtillbehör Boston / SPG > Plektrumskydd ST 3 pickup
Tuote 104165. ST -tyylinen pleksi 3 x singlecoil white, black, white ST33WBW. White/Black/White 3ply. Kuvat suuntaa-antavia, värisävyt eivät toistu useinkaan tietokoneen näytöllä sellaisina kuin ne luonnossa ovat.
Muistathan, että kitarapleksimme eivät ole varaosia millekkään tietylle merkille eikä mallille. Kiinnitysruuvien reiät voi olla eri kohdilla jos meinaat "päivittää" uuden pleksin kitaraasi. Pleksin asentaminen vaatii tällöin uusien ruuvinreikien tekemisen kitaraan.
Katso myös
Tuote SPH20921. Pehmustehuopaprikka kitraan kerman vaalea n. 3 x 12 mm.
Tuote 102410. Tremolojousten peitekansi ST -tyyli Standard, Boston PEITE3WH White. Sileä kiiltävä pinta. Tremolo spring cavity cover. Paksuus 2 mm. Plastic 86 x...
Tuote 109755. Muovisatula Hollow Body Style WHITE, 6 -kielinen. Yläpinta kaareva, alapinta suora. Leveys 42 mm, maksimikorkeus 9.2 mm.
Tuote 114951. Konserttiukulelen pussi / kantokassi ukulelelle ei pehmustettu.
Tuote 102969. Muovisatula musta 42 mm, 6 -kielinen kitara G6SATUB. Plastic pre slotted saddle to 6 -string guitar. Width 42 mm, thickness 3.5 mm, max. height 5.5mm (1.65x0.138x0.217").
Tuote 109479. Akustisen kitaran tallapinni muovia Musta valkoinen piste TPBKDABS. Bridge pin black, white dot, plastic. Tallanasta.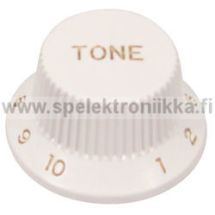 Tuote 101847. Potentiometrin nuppi. ST -tyylinen tonenuppi valkoinen STNUPTW. Korkeus n. 13 mm , leveys n. 17/25 mm. Boston Musical Products tai Korea, riippuen varastotilanteesta.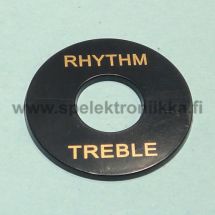 Tuote 102415. LP -tyylisen kitaran muovinen kytkimen peitelevy. Plastic switch plate. Out dia. 34.3 mm (1.350"), hole dia. 12.8mm (0.504"). With rhythm / treble text. Black.
Tuote 113525. Messinkisatula 6-kieliselle kitaralle kromi. Brass saddle to 6 -string guitar. Kaareva ja loivasti
viistottu, curved and slightly tapers...