Bottom plate for TC type guitars model 2 brass
Main Page > Parts for musical instruments > Soitinrakennustarvikkeet Boston / SPG > Pickup building parts
Tuote 113527. Bottom plate for TC type guitars model 2 brass. Useammalla mikrofonirungon ruuvikiinnitysreiällä. Jos tunailet mikkejä, muista laittaa vaikka maalarinteipin palanen eristeeksi bottom plateen ettei magneettipalat pääse koskemaan messinkiin.
See also
Tuote 115381. Hotrail mini Humbucker OL® OLMH-1701 black black crome singlemikin kokoinen. Bladet kromi. Sarjaan käämityt mikit, kaikki...
Tuote 104677. Kitaramikrofonien käämilanka, pickupwire AWG42 (0.06mm) lankaa tyypillisesti n. 170 - 180g / kela. Kitaramikrofonien käämilanka, pickupwire, n. 0,06mm...
Tuote 102053. Kompassi 8 mm x 25 mm, mikrofonimagneettien napaisuuksien testaamiseen ym. ym. Ei sovellu suunnistukseen. Compass, can be used for example testing pickupmagnets...
Tuote 102040. ALNICO 5, magneetti Ø 5mm (0.195") Tasaiset päät, soveltuvat ylä, ala ja keskimikin magneeteiksi (FRM). Vintage non staggered alnico...
Tuote 104679. Wilkinson® virityskoneisto WJ07LCR EZ-LOK™ -kielilukituksella, kuusikieliselle kitaralle 6L, kromi. Välitys 19:1.Wilkinson® machinehead...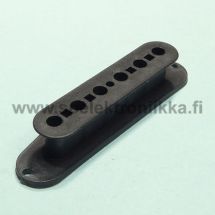 Tuote 102030. Yksikelaisen mikrofonin valmis runkoaihio. Single coil pickup bobbin. Polepiece spacing 50 mm (1.96") or 52.5 mm (2.07"). Height 15 mm (0.59"). Aihion yläosan...
Tuote 103220. Pleksilevy aihio (Vintagewhitepearl/cream/black/cream) 4ply, VWP/Cream/B/Cream4PLYBIG. 280 x 430 mm. Kaikki mitat...
Tuote 113529. Mikrofonin fiiberisarja (prespaani) yksikelaiselle 54mm TC black. Alaosa 2.4mm, yläosa 1.6mm. Single-coil flatwork set, includes top and bottom. 54 mm...
Copper tape for RF shielding, extremely useful for guitars.