Läpivienti new age eyelet plated copper pituus 3.4 mm n. 100 kpl
Main Page > Parts for musical instruments > Soitinrakennustarvikkeet Boston / SPG > Pickup building parts
Tuote 113839. Läpivienti new age eyelet plated copper pituus 3.4 mm n. 100 kpl. Kokonaispituus n. 3.4 mm, laipan halkaisija n. 3 mm, putken ulkohalkaisija n. 1.9 mm, sisähalkaisija n. 1 mm, materiaalipaksuus n. 0.4 mm. Käytetään läpivienteinä esim. prespaanilevyissä mikrofonilangalle, piirilevyissä jne ....
Oikeasti ko. eyelet lukitaan erikoistyökalulla siten että tuo laipaton pää "puristetaan" tai "lyödään" siten että sinnekkin puolelle leviää tuollainen laippa.
Kotikonstein saa sen lukittua kyllä tinallakin tekemällä isompi tinakökkö tuon laipattoman pään ulkoreunoille.
See also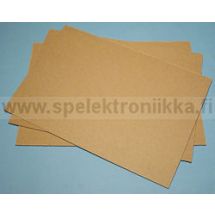 Tuote 102182. Ruskeat millikoon prespaanilevyt ("fiiberilevy") 210 x 300mm kitaramikrofonien rakenteluun. Prespaania on kohtuullisen helppo leikata ja sen sähköneristyskyky on...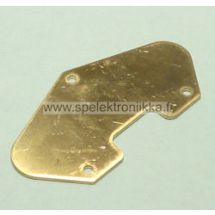 Tuote 113526. Bottom plate for TC type guitars model 1 brass. Jos tunailet mikkejä, muista laittaa vaikka maalarinteipin palanen eristeeksi bottom plateen ettei magneettipalat...
Tuote 104530. Otelautamerkki, simpukka aito MOP 6mm OTEMOP6. Valkeasta "helmiäisestä", simpukasta (MOP) valmistetut pyöreät otelautamerkit. Genuine White Mother of...
Tuote 109435. Humbucker pohjalevy, 52mm jaolla BABRONZE52R. Stanssattu messingistä. German Silver ei enään valikoimissa.
Humbucker baseplates, made...
Tuote 102045. Keraaminen suorakaidemagneetti. Käytetään mm. JB -tyylisten ja steelbar pickuppien rakentelussa. Ceramic guitar pickup magnet, commonly...
Tuote 103831. "CTS made in USA", CTS 24mm kitarapotentiometri 500k log EP086 / CTS500-A53, aidot CTS -potikat, uritetulla metallivarrella kitarakäyttöön. Tuumajako akselin...
Tuote 113528. Mikrofonin fiiberisarja (prespaani) yksikelaiselle 50mm TC black. Alaosa 2mm, yläosa 1.6mm. Single-coil flatwork set, includes top and bottom. 50 mm...
Tuote 102040. ALNICO 5, magneetti Ø 5mm (0.195") Tasaiset päät, soveltuvat ylä, ala ja keskimikin magneeteiksi (FRM). Vintage non staggered alnico...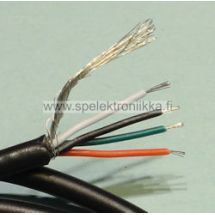 Shielded hotrail cable for guitar pickups and many other applications.