Läpivienti new age eyelet copper pituus 3 mm n. 50 kpl
Main Page > Parts for musical instruments > Machineheads and other parts Boston / SPG > Pickup building parts
Tuote 113551. Läpivienti new age eyelet copper pituus 3 mm n. 50 kpl. Kokonaispituus n. 3 mm, laipan halkaisija n. 3 mm, putken ulkohalkaisija n. 1.9 mm, sisähalkaisija n. 1.2 mm, materiaalipaksuus n. 0.4 mm. Käytetään läpivienteinä esim. prespaanilevyissä mikrofonilangalle jne ....
Oikeasti ko. eyelet lukitaan erikoistyökalulla siten että tuo laipaton pää "puristetaan" tai "lyödään" siten että sinnekkin puolelle leviää tuollainen laippa.
Kotikonstein saa sen lukittua kyllä tinallakin tekemällä isompi tinakökkö tuon laipattoman pään ulkoreunoille.
See also
Product 115327. Ceramic Ceramic 8 Bar Magnet 5mm x 10mm x 60mm for Guitar Pickups. Ceramic rectangular magnet. Multi-use magnet, upgrades for guitar finals, microphone construction, etc. Single...
Tuote 102053. Kompassi 8 mm x 25 mm, mikrofonimagneettien napaisuuksien testaamiseen ym. ym. Ei sovellu suunnistukseen. Compass, can be used for example testing pickupmagnets...
Tuote 109707. Kitaran satulan luuaihio BNK-24 Hosco. Koko n. 45x10x5mm for Guitar.
Tuote 103377. Otelautanauha, ruostumaton teräs (stainless steel frets). Todella laadukasta ja mittatarkkaa Sintoms Ltd terästä. Likipitäen...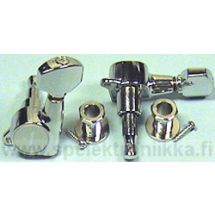 Tuote 105566. SG381-07 (07222CS) Gotoh® virityskoneisto 3L/3R kromi, kuusikieliselle sähkökitaralle 3L/3R. Välitys 16:1. Machinehead set, Gotoh®, type SG381-07CS (07222). Gear...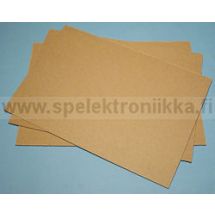 Tuote 102182. Ruskeat millikoon prespaanilevyt ("fiiberilevy") 210 x 300mm kitaramikrofonien rakenteluun. Prespaania on kohtuullisen helppo leikata ja sen sähköneristyskyky on...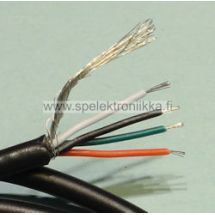 Shielded hotrail cable for guitar pickups and many other applications.
Tuote 103209. Kitaran pleksilevy aihio, plektrasuoja aihio Black 1ply, B1PLYBIG, 290 x 450 mm. Kaikki mitat noin mittoja. Laadukas...
Tuote 104530. Otelautamerkki, simpukka aito MOP 6mm OTEMOP6. Valkeasta "helmiäisestä", simpukasta (MOP) valmistetut pyöreät otelautamerkit. Genuine White Mother of...