Pickup polepiece screw Vintagetyylinen säätöruuvi mikrofoneihin POLESCREW BLACK
Main Page > Parts for musical instruments > Soitinrakennustarvikkeet Boston / SPG > Pickup building parts
Tuote 113981. Pickup polepiece screw Vintagetyylinen säätöruuvi mikrofoneihin POLESCREW BLACK. Vintagetyylinen säätöruuvi mikrofonirunkoihin missä on kavennus magneettireiässä, vintage style fillisterhead polescrew. Esim. HUFIL mikrofonirunkoihin. Käytetään tyypillisesti mikrofoneissa missä on myös magneettijohdin / korotepalat / pohjalevy. Myydään kappaleittain.
Humbucker polepiece screw for HUFIL style vintage bobbins. Adjustable fillisterhead polepiecescrew for pickups with fillisterhead bobbins, also called as "square in circle hole" bobbin. Used with metal spacer below bobbin. Threads 3mm, total length 21.6mm, screw head dia 5mm. Sold individually. Vintage style fillisterhead polescrew.
See also
Tuote 103836. Paristoneppari, suora "tavallinen" johdot n. 150 mm.
Tuote 102053. Kompassi 8 mm x 25 mm, mikrofonimagneettien napaisuuksien testaamiseen ym. ym. Ei sovellu suunnistukseen. Compass, can be used for example testing pickupmagnets...
Tuote 101917. Vaihtokytkimen nuppi. VIPNUPWH, valkoinen 3 ja 5 -asentoisten kytkinten nuppi, 3WAY-SW01:lle, 5WAYSW01:lle, sekä OL kytkimille. Millimitoitus.
Tuote 102040. ALNICO 5, magneetti Ø 5mm (0.195") Tasaiset päät, soveltuvat ylä, ala ja keskimikin magneeteiksi (FRM). Vintage non staggered alnico...
You tubessa runsaasti aineistoa mm. French Polishing tekniikasta.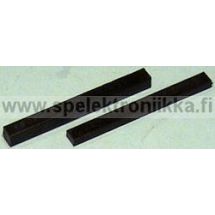 Tuote 102028. Muoviset korotepalat humbucker mikrofonien alle. Plastic shim for humbucker bobbin. Sizes:
3 x...
Tuote 108093. Keraaminen kondensaattori 27nF 50V N150.
Tuote 108095. Keraaminen kondensaattori 47nF 50V N150.
Tuote 103194. Otelautaudan sivumerkki 2 mm, white SIVUM20W. Otelaudan sivumerkit muovia. Fretboard side dot materials plastic. Length approx. 50 mm (1.969"). Dia. approx. 1.5...