Pickup polepiece screw Vintagetyylinen säätöruuvi mikrofoneihin POLESCREW NICKEL
Main Page > Parts for musical instruments > Machineheads and other parts Boston / SPG > Pickup building parts
Tuote 102025. Pickup polepiece screw Vintagetyylinen säätöruuvi mikrofoneihin POLESCREW NICKEL. Vintagetyylinen säätöruuvi mikrofonirunkoihin missä on kavennus magneettireiässä, vintage style fillisterhead polescrew. Esim. HUFIL mikrofonirunkoihin. Käytetään tyypillisesti mikrofoneissa missä on myös magneettijohdin / korotepalat / pohjalevy. Myydään kappaleittain.
Humbucker polepiece screw for HUFIL style vintage bobbins. Adjustable fillisterhead polepiecescrew for pickups with fillisterhead bobbins, also called as "square in circle hole" bobbin. Used with metal spacer below bobbin. Threads 3mm, total length 21.6mm, screw head dia 5mm. Sold individually. Vintage style fillisterhead polescrew.
See also
Tuote 102027. "Magneettijohdin" humbucker mikrofonin alle. Johtamaan magneettikenttä polepieceihin. Käyttö POLESCREW ruuvien...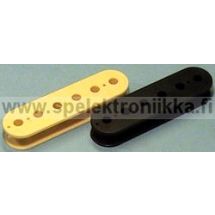 Tuote 102023. Humbuckerin valmiiksi rei'itetyt mikrofonirungot vintagetyylisellä kapenevalla magneettireiällä. Humbucker bobbins...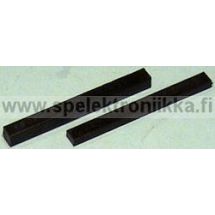 Tuote 102028. Muoviset korotepalat humbucker mikrofonien alle. Plastic shim for humbucker bobbin. Sizes:
3 x...
Kromatut teräspalat vintage humbuckereihin 4.8mm...
Tuote 109434. Humbucker pohjalevy, 50mm jaolla BABRONZE50F. Stanssattu messingistä. German Silver ei enään valikoimissa.
Humbucker baseplates, made...
Tuote 102051. Pickup polepiece slug Kromatut teräspalat kitaramikrofoneihin. Kromatut teräspalat kitaramikrofoneihin missä käytetään suorakaidemagneettia mikrofonin alla. Ø 5mm...