Vintage slugscrew dia. 4.8 mm length 15 mm for vintage humbucker bobbins etc ...
Main Page > Parts for musical instruments > Soitinrakennustarvikkeet Boston / SPG > Pickup building parts
Tuote 102024. Vintage slugscrew dia. 4.8 mm length 15 mm for vintage humbucker bobbins etc ... Halk. 4.8mm, pit. 15mm. Sopii esim. meidän vintage humbucker runkoihin joissa 4.8mm magneettireiät. Myydään kappaleittain.
Adjustable polepiece screw for example to our 4.8 mm vintage humbucker bobbins. Sold individually.
See also
Tuote 109061. Pienen mustan moninapaliittimen naaras kontakti. Moninapaliitin kontakti. Tähän saa kohtuudella puristettua maksimissaan n. 0.3 neliön johdon.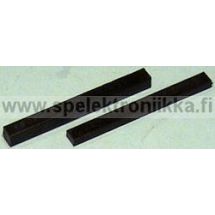 Tuote 102028. Muoviset korotepalat humbucker mikrofonien alle. Plastic shim for humbucker bobbin. Sizes:
3 x...
Tuote 109049. Moninapaliitin pieni musta r. 2.54 mm, 2 -napainen. Piikkirimaan tai vastakappaleeseen, ei polarisoitu. Kuva suuntaa-antava yleiskuva. Sisälle tuleva kontaktiosa...
Tuote SHM21245. Humbucker / single bobbin vintage tall pitch 52 black. 5mm polepiece slug holes. Magnets and steel polepieces fits in. Also you can use ceramic or alnico...
Tuote 103836. Paristoneppari, suora "tavallinen" johdot n. 150 mm.
Tuote 104054. Puolipallokanta musta millikierre 3025BKMR. 3 x 25 mm, metric, BK, round. Soitinrakentelussa käytettäviä ruuveja. Mounting...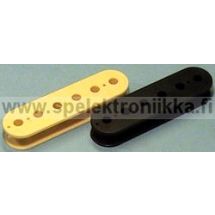 Tuote 102023. Humbuckerin valmiiksi rei'itetyt mikrofonirungot vintagetyylisellä kapenevalla magneettireiällä. Humbucker bobbins...
Tuote 109434. Humbucker pohjalevy, 50mm jaolla BABRONZE50F. Stanssattu messingistä. German Silver ei enään valikoimissa.
Humbucker baseplates, made...
Tuote 114690. Paristonpidin 9V patterille paristo mahalleen, terästä 4 ruuvinreikää. Leveys alhaalta n. 25 mm, korkeus n. 19.5 mm.