Copper tape for RF shielding, extremely useful for guitars 1m, leveys 5mm
Main Page > Parts for musical instruments > Machineheads and other parts Boston / SPG > Pickup building parts
Tuote 103403. Coppertape, copper shielding tape, non conductive adhesive backing. Sold as 1 m. Width 30 mm, with non conductive adhesive backing.
This also helps many times to reduce the hum, buzz and other interferences from electronics such as now very common problems that comes from those small energy saving switched power supplies which are used for small effect boxes etc ...
Kupariteippi copper shielding tape (kuparifolioteippi) 1m, leveys 5mm. Kupariteippi (kuparifolioteippi), leveys 5 mm, teippejä myydään metreittäin. Kitaroiden pleksilevyjen taakse häiriösuojaukseen. Kitaramikrofonien suojauksiin, RF-suojaukseen, antennien ja maatasojen tekoon, kelojen tekoon jne. Ei johtava liima. Katso myös sähköä johtava maali sivuiltamme.
See also
Tuote 102040. ALNICO 5, magneetti Ø 5mm (0.195") Tasaiset päät, soveltuvat ylä, ala ja keskimikin magneeteiksi (FRM). Vintage non staggered alnico...
Tuote 109799. Ovaalikanta musta puuruuvi 2512BKW. 2.5 x 12 mm, wood, CR, oval. Soitinrakentelussa käytettäviä ruuveja. Mounting...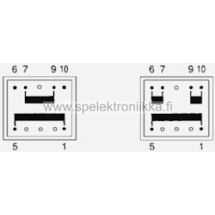 Tuote 111078. Piirilevymuuntaja 1 x 6V / 250mA. Muuntajien tyhjäkäyntijännite kuormittamattomana on suurempi kuin ilmoitettu...
Tuote 110907. Korotepala LED:ille, korotus 14mm.
Tuote 101274. Tiivistelajitelma 125 osainen. O -renkaita sekä kumia että nailonia, kuitutiivistealuslevyjä, tiivistealuslevyjä, latta-aluslevyjä, kumisia aluslevyjä, pehmeitä vaahtotiivistealuslevyjä, alumiinisia...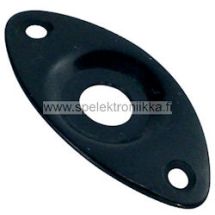 Tuote 107457. Jakkilevy, ovaali syvennyksellä JAKLE1BK musta. Jackplate for guitars. Oval recessed. Screw holes 2 x flat or oval head dia. 3.5 mm (0.138"). Jack hole...
Tuote 113517. Pleksilevy (plektrasuoja) black TC3B/CREAM/B, TC -tyylisiin kitaroihin. TC -style plastic pickguard. 3Ply. Kuvat suuntaa-antavia, värisävyt...
Tuote 101340. Sininen 3mm waterclear vilkkuled. Puolijohde sijoitettu substraattiin reunalle jolloin välkyntä heijastuu myös LED:in sivuille. Suoraan...
Tuote 109084. Loisteputkilampun sytytin 4 - 80W. Loistelamppu loisteputkilamppu.