Kitaramikrofonien käämilanka, pickup wire AWG43 / 0.055 mm n. 160g - 170g
Main Page > Parts for musical instruments > Machineheads and other parts Boston / SPG > Pickup building parts
Product 104678. Guitar microphone winding wire, pickup wire AWG43 / 0.055 mm yarn typically around 160-170g in coil. approx. 25.3g / 1km, approx. 6pm / 1km.

One single coil typically takes about 0.9 - 1.4 km = about 23 - 35g. This AWG43 (0.055mm) yarn is about 65,000 r / reel. The weight of the reel is about 32 - 35g empty.
To ensure that the joint is successful, remove the top coat before staining.

Sometimes the winding machine actuator can be used to monitor the winding machine and there may be too many rounds or too few turns for the reel. However, there are always 160 - 170g of yarn in the reels.
Tämä on sitä lankaa joka on ollut meillä myynnissä jo vuosikaudet, tulee tehtaalta joka toimittaa mm. mikrofonivalmistajille lankaa, valmistajan ilmoittama nimellispaksuus on tuo 0.055mm joka on lähinnä AWG43:a.
Eli AWG43 ei ole paksuudeltaan 0.06mm kuten jossain on virheellisesti mainittu, eikä suinkaan ole sama kuin SWG44.
AWG = American Wire Gauge
SWG koot ovat aivan liian paksuja mikkien käämintään
SWG = Standard Wire Gauge
SWG42 = 0.1 mm
SWG43 = 0.09 mm
SWG44 = 0.08 mm
Grammahinta n. 0.0545 eur.
See also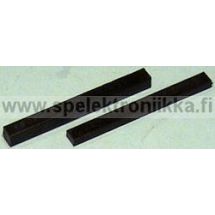 Tuote 102028. Muoviset korotepalat humbucker mikrofonien alle. Plastic shim for humbucker bobbin. Sizes:
3 x...
Product 104677. Guitar microphone winding wire, pickupwire AWG42 (0.06mm) typically about 170 - 180g / coil. Guitar Microphones Winding...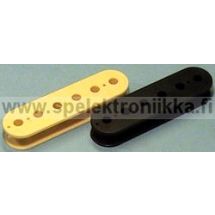 Tuote 102023. Humbuckerin valmiiksi rei'itetyt mikrofonirungot vintagetyylisellä kapenevalla magneettireiällä. Humbucker bobbins...
Tuote 102051. Pickup polepiece slug Kromatut teräspalat kitaramikrofoneihin. Kromatut teräspalat kitaramikrofoneihin missä käytetään suorakaidemagneettia mikrofonin alla. Ø 5mm...
Vintage pushback 18 awg stranded wire !!!
Tuote 102027. "Magneettijohdin" humbucker mikrofonin alle. Johtamaan magneettikenttä polepieceihin. Käyttö POLESCREW ruuvien...
Vintage pushback 18 awg stranded wire !!!
Tuote 102025. Pickup polepiece screw Vintagetyylinen säätöruuvi mikrofoneihin POLESCREW NICKEL. Vintagetyylinen säätöruuvi mikrofonirunkoihin missä on kavennus magneettireiässä, vintage...
Tuote 109434. Humbucker pohjalevy, 50mm jaolla BABRONZE50F. Stanssattu messingistä. German Silver ei enään valikoimissa.
Humbucker baseplates, made...