Kitaramikrofonien käämilanka, pickup wire AWG42 / 0.06 mm n. 170g - 180g
Main Page > Parts for musical instruments > Machineheads and other parts Boston / SPG > Pickup building parts
Product 104677. Guitar microphone winding wire, pickupwire AWG42 (0.06mm) typically about 170 - 180g / coil. Guitar Microphones Winding Wire, pickupwire, approx. 0.06mm / 42 AWG and Wire Rope approx. 0.055 / 43AWG. approx. 25.3g / 1km, approx. 6pm / 1km. One single coil typically takes about 0.9 - 1.4 km = about 23 - 35g. This AWG42 (0.06mm) yarn is about 57,000 r / reel. The weight of the reel is about 32 - 34g. Due to the volatility of the world market price of copper, the price may fluctuate, the price is updated every time the purchase price changes.
To ensure that the joint is successful, remove the top coat before staining.

Sometimes the winding machine actuator can be used to monitor the winding machine and there may be too many rounds or too few turns for the reel. But the material weight, ie the amount of yarn on the reel, is 170 to 180g.
Tämä on sitä lankaa joka on ollut meillä myynnissä jo vuosikaudet, tulee tehtaalta joka toimittaa mm. mikrofonivalmistajille lankaa, valmistajan ilmoittama nimellispaksuus on tuo 0.06mm joka on lähinnä AWG42:a.
Eli AWG42:n "virallinen" paksuus on 0.064.
AWG = American Wire Gauge
SWG koot ovat aivan liian paksuja mikkien käämintään
SWG = Standard Wire Gauge
SWG42 = 0.1 mm
SWG43 = 0.09 mm
SWG44 = 0.08 mm
Grammahinta n. 0.0570 eur.
See also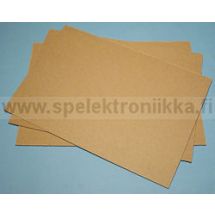 Tuote 102182. Ruskeat millikoon prespaanilevyt ("fiiberilevy") 210 x 300mm kitaramikrofonien rakenteluun. Prespaania on kohtuullisen helppo leikata ja sen sähköneristyskyky on...
Vintage stranded wire !!!
Product 104678. Guitar microphone winding wire, pickup wire AWG43 / 0.055 mm yarn typically around 160-170g in coil. approx. 25.3g...
Tuote 103053. Kaulan kiinnityslevy kaulalevy KAULE1CR, kromi. Neck joint plates. Laadukas, hyväpinnoitteinen ja tukeva Boston Musical Products. Kaulalevy. Screw holes...
Tuote 102019. Parafin for guitar pickups, melting point 54 - 58 ºC. 500g polybag, more info in our web pages in "speksit". Kitaran mikkien parafiini, matalan...
Tuote 102040. ALNICO 5, magneetti Ø 5mm (0.195") Tasaiset päät, soveltuvat ylä, ala ja keskimikin magneeteiksi (FRM). Vintage non staggered alnico...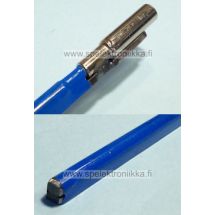 One of our best sellers in truss rods !!!
Tuote 102051. Pickup polepiece slug Kromatut teräspalat kitaramikrofoneihin. Kromatut teräspalat kitaramikrofoneihin missä käytetään suorakaidemagneettia mikrofonin alla. Ø 5mm...
Tuote 102041. ALNICO 2, Ø 5mm (0.195") Tasaiset päät, soveltuvat ylä, ala ja keskimikin magneeteiksi (FRM). Alnico kakkosia muunmuassa Seymous...