Speed nuppi (hatbox) gold SPNUPGDTUUMA
Main Page > Parts for musical instruments > Soitinrakennustarvikkeet Boston / SPG > Knobs for guitar pots > Plastic knobs for guitar pots
Tuote 101875. Potentiometrin nuppi. Speed tyyppinen muovinuppi CTS -potikoille (tuumakoko). SPNUPGDTUUMA.
Plastic speed knob, for CTS -pots, (inchsize)
h. 12.5 mm, w. 26 mm.
See also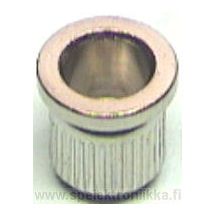 Tuote 114161. Kieltenpujotusholkki KPH22NI Nikkeli, string bushing. Mitat lisätiedoissa. Boston Musical Products tai OL Guitarparts Korea.
Tuote 101929. Vaihtokytkimen nuppi. LB-360, musta 3 ja 5 -asentoisten kytkinten nuppi, DM30 ja DM50 -kytkimille. 360 -sarja "tynnyri" TC -tyylisille kitaroille. Millimitoitus.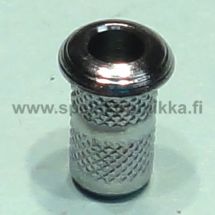 Tuote 109272. String thru top ferrule crome KPH521CR. String thru top ferrules. Strings can be mounted without tailpiece. Runko 4 mm, laippa 5.5 mm, reikä 2.5 mm, pituus...
Tuote 102413. LP -tyylin kytkimen peitelevy BLUES3WH White kulta teksti. LP -tyylisen kitaran muovinen kytkimen peitelevy. Plastic switch plate. Out dia. 34.3 mm (1.350"), hole...
Tuote 102980. Grafiittisatula 6 -kieliselle kitaralle. Graphite pre slotted saddle to 6 -string guitar.
Kaareva ja loivasti viistottu, curved...
Tarkka kopio OAK kytkimestä.
Tuote 102609. Mikrofonikehys, humbucker mikrofonikehykset muovia, white. Sisämitat vakiokokoa, tasapohja, kapeneva. Mitat noin mittoja. Ulkomitat n. 45 mm x 90 mm. Plastic...
Tuote 105870. Mikrofoninvaihtokytkin TOGGSW1CW (Crome/White). LP tyylinen vaihtokytkin kahdelle mikrofonille, 3 -as. mukana valkoinen nuppi. Näkyville jäävä mekaniikka...
Tuote 104623. Otelautamerkki, simpukkajäljitelmä muovi 8mm OTEMUO8W valkoinen. Fretboard dots, artificial pearl, plastic.